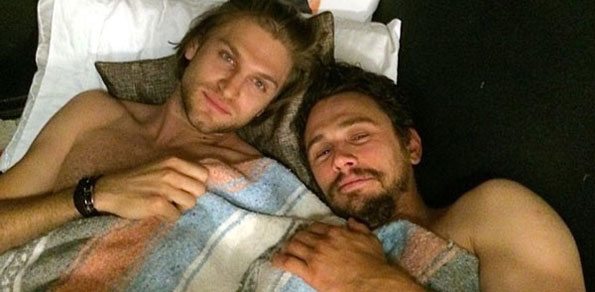 It's been an odd month for James Franco who delights in posting numerous selfies on his Twitter and Instagram accounts.
Recent weeks saw his selection of selfies getting nudier from him shirtless in bed having just woken up, to his underwear lowered in front of a mirror. Juts as social commentators began asking what was going on Franco took to Twitter to show off nude portraits he had painted of frequent co-star Seth Rogan, who Franco have previously alluded to being in love with in their co-penned comedy This Is The End. As some began to question his sexuality,
Franco followed up by posting shots of him and his latest co-star Keegan Allen shirtless together under his bed sheets. Is this behavior simply to promote his new feature Palo Alto?
In an interview with David Letterman last week Franco shrugged it off saying, "To me it's just a fun thing, it's something I don't put a ton of thought into, but it gets a lot of attention!"
It certainly got ours!
 Article| Oliver Hall