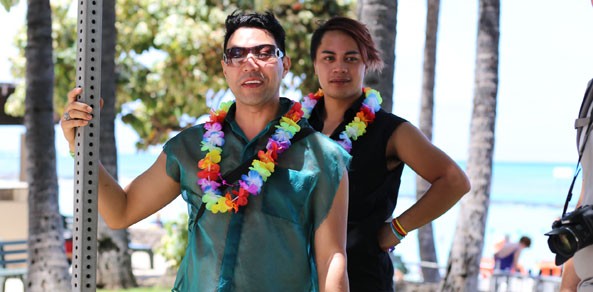 express Hawaii giveaways winner Patric Seng brings us updates on just how fabulous it is to be at Honolulu Pride 2014.
Traveling with Hawaiian Airline is amazing!
The flight crew were helpful and friendly, we took off on time and only took about 8 hours to arrive in Honolulu Hawaii! It was a very smooth journey, everyone got their beauty sleep on the flight, we were very well looked after.
When we arrived at the airport, you can instantly feel that tropical breeze hitting you like a bolt out of nowhere, but all that on my mind was stepping out of these warm New Zealand clothes  and into my swimming trunk . After a few delays through customs it was off onto our pre-booked mini bus and made our way to the hotel at Waikiki. And as you can see from my photos, we had a fun time traveling in the mini bus taking picture with the others.
When we arrived at Vive Hotel Waikiki, everyone was welcomed fresh pineapple juice and fresh towel to wipe our face and hands.I felt so pampered and the hotel receptionists are very efficient and charming.
So everyone went up to their own room (so do I); After a quick shower, I went off to explore Waikiki and had a great lunch at a nice Italian restaurant – IL Lupino Trattoria & Wine Bar with my lovely partner.
There's so much to explore and seems a lot of fun things to do. Watch this space to read more of my posts!
Mahalo,
Patric xo