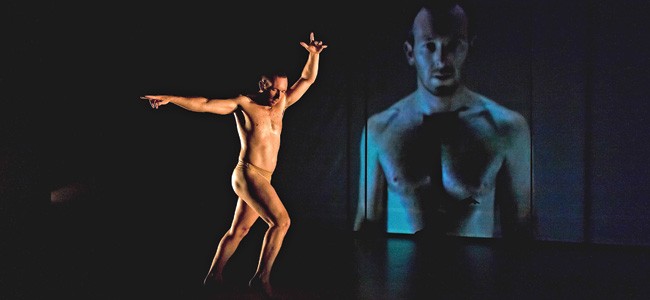 Paul Young is a Dance Lecturer at Unitec. 
How did you get into dance?
To improve my chances of getting into a Drama School I began training in the inaugural year of Hagley Dance Company in Christchurch under Sheryl Robinson, a well know figure in the queer community. I had no idea what I was in for but Sheryl was a great mentor and with her support, I fell in love with moving. I was a late starter for a dancer, but so were Michael Parmenter and Douglas Wright, so enough said!
What's the craziest thing you've done onstage? 
I laid a raw egg while experimenting with performance art at Unitec much to the shock of my classmates. The whole performance was quite unhinged, but the crowning glory was laying the egg, which I had carefully slipped up my bum beforehand. People wondered if I was scared it would get lost inside me or break, and while it did migrate up a little I was fully confident I could carry it to term!
You were in Christchurch when the Earthquake happened – how did that effect the dance community & the work being made?
One of the biggest blows to Dance and the greater Arts communities was the loss of already scarce rehearsal and performance venues and interruption to platforms for the presentation of work such as The Body festival. The dance community bounced back extraordinarily quickly and entrepreneurially, making a broad range of works relating or responding to the experience. 
You've worked with Malia Johnston (of World of Wearable Arts) many times throughout your career – what keeps bringing you back together?
Malia is a master provocateur and facilitates environments where sometimes magic happens. She seems to attract people with huge talent and tiny egos…
Your latest collaboration is Amanimal – what is it about?
Three Men who are animals and two animals who act like men. There is fur, there are beards, there are giant underpants and a headless turkey. There is a ball of human and a big head. Amanimal has live music, manly songs brotherly love and lip syncing. There is a Knothead and a martian garden and all with a sense of journey and a potential murder.
What three things couldn't you live without?
I would feel claustrophobic without the ocean, I'd go mad without the internet and without my body what would I be? A gas?
Paul Young's students are performing in Tertiary Colours and Y Chromozone as part of Tempo.
Article | gayexpress