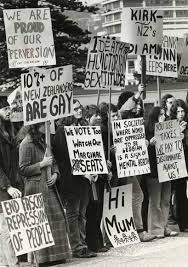 Justice Minister Amy Adams says she is open to resuming talks on the subject of having the criminal records of those convicted of historical homosexual acts wiped. 
While those who were convicted before the 1986 Homosexual Law Reform Act was passed do not need to declare their convictions because of the Clean Slate Act, GLBT activists say the stigma still hangs over them.
Between July 1, 1980, and August 8, 1986 alone, there were 879 convictions, including sodomy with another man aged over 16, committing an indecent act with another man, and "keeping place of resort for homosexual acts".
Justice Minister Amy Adams is open to the idea of wiping the historic convictions, but says there will be difficulties.  "I have seen some numbers that suggest you would have to do it very carefully if you were to consider it, simply because a number of the offences under the old legislation would still be offences, so it's not a broad brush."
Former Labour MP for Wellington Central, Fran Wilde who champoined the Homosexual Law Reform bill supports the change saying "I think it would be a good thing to do, because the law as it used to be was grossly wrong, and I think most New Zealanders now would recognise that."
Green party MP Kevin Hague is also in support and had spoken to previous justice minister Judith Collins about a law change. It was likely there would still be a number of people who were carrying the shame of a conviction, he said, as it seemed there was a conviction "every day or every couple of days" in the Auckland courts in the late 70s and 80s.
"We just think, with the benefit of hindsight at last . . . it was an unjust law to begin with, but I think everyone would now agree it was an unjust law."
The recent calls in New Zealand for change have come just as the Australian states of New South Wales and Victoria passed laws last week wiping the convictions of those convicted of homosexual acts.
Article | Levi Joule