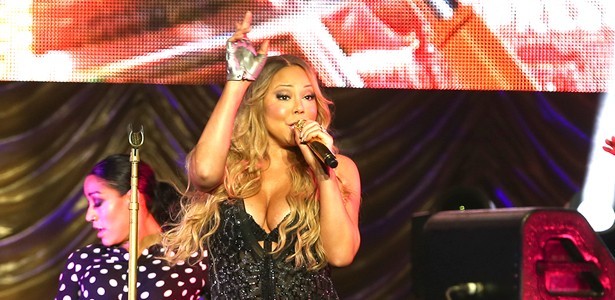 Last night Mariah Carey performed in NZ for the first time, bringing here Elusive Chanteuse Show to a Vector Arena filled with hungry fans (lambs) and whipping up a vocal storm that lived up to her legendary status!
express decided to give Carey opening act Titanium a miss and instead opt for a fabulous dinner at Orleans (48 Customs Street East). The Britomart restaurant choices really help to make the Vector arena the perfect venue for turning a concert into a full night out. Orleans was packed with Mariah fans, the American themed restaurant serving as a perfect starter, before America's sweetheart took the stage.
Bob Marley tunes were playing as we took our seats, before Carey's backing singers introduced her with a rendition of Bobby Womack's Across 110th Street complimented by sexy James Bond themed video with Mariah starring as 007! Carey burst out of the blocks with Fantasy at 8.50pm. Her love of hip hop was well showcased as the first image on the giant screen that backed that stage was the late ODB tying up a clown, from the infamous Fantasy Remix video. It served as a reminder to the game changer Mariah is, the first Pop/R&B artist to collaborate with a rapper. This trend became so popular – it is now has it's own category at the Grammy awards.
The clever remix saw MC swing between the rap version and the radio friendly original, before seguing into her most recent number one hit Touch My Body, which always sounded better than the original with Carey free to flex her pipes and ad-lib away. No lip syncing to be seen! With her vocals warmed up she tackled early hit Emotions with vigor. The crowd exploded as she hit one insanely high-note after another.
Her singers were introduced, just as her band and dancers would be later in the show. It immediately became apparent that Mariah had brought some seriously big name musicians with her – most notable backing singer Trey Lorenz (I'll Be There) and renowned soul-producer Big Jim Wright on piano.
Looking pleased as punch Carey reclined on her Grand, and reminisced about the songs her and Wright had written together, giving the crowd snippets of Emancipation of Mimi tunes: Circles and I Wish You Knew. She then tackled her latest album's opening ballad Cry, before going full-gospel with Fly Like A Bird, before belting signature hit My All while dancer pirouetted around her.
Bringing the party back with what fans have tagged the 'Car Ride Medley', the queen of modern R&B showed off her up beat hits including: the Heatbreaker remix followed by the original, her half of duet #Beautiful, the Butterfly album's Breakdown, rarely performed Busta Rhymes collaboration I Know What You Want, club-banger It's Like That, Crybaby (from Rainbow), a full rendition of her classic The Roof, the Eminem-baiting Obsessed and chart topper Don't Forget About Us; each backed by either their original music videos or new ones created especially for the show.
Things slowed a little with mid-tempo renditions of E=MC'd's I'm That Chick, the So So Def mix of Honey and Me. I Am Mariah's Thirsty, before Carey pulled off of the best performances of Hero this mega-fan had ever seen. This would always be a hard moment to follow, so after dedicating a performance Supernatural to her kids, Mariah brought twins Rocco and Monroe out on stage. Highlighting her charm and charisma, she came across as a 'real mum' having no control of what her kids said into her mic, as they generally ignored her every instruction. It was warm and touching and washed away any indication that her diva reputation was valid.
Sing along performances of Always be My Baby and We Belong Together concluded the show at 10.50pm. NZ's introduction to a live Mariah experience was a special one. This tour is the first in her near 25 year career where Carey has indulged anything like a two hour, 23 song set list. Together with the full-production show, top notch backing musicians, a hit filled set list and a voice and stage presence that lived up to her legendary expectations this really was a show fit for a queen.
 Article | Oliver Hall. Photo| Garry Brandon Photography, www.performingpictures.co.nz