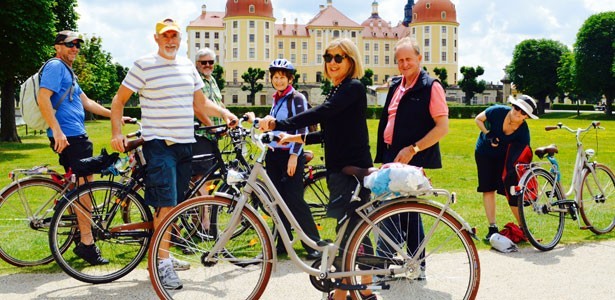 Aucklander's Peter Macky and Yuri Opeshko skip Aotearoa over the winter months, migrating to Europe to work at their Berlin-based business Easy Cycling Tours, where they invite guests to see the sites by bike. Oliver Hall talks to antipodeans who have chosen these tours to discover their highlights.
One of the most exciting and affordable European capitals, visiting Berlin should be on everyone's bucket list. As star architect David Chipperfield's recent essay in The Guardian pointed out, the city is a unique blend of political capital and, 'charming hippy town of pop-ups and clubs.' In addition, it's gay scene, which truly caters for all tastes, remains legendary.
Easy Cycling Tours offers three separate tours, offering guests the chance to see Berlin and beyond by bike. 
Auckland's Dr Roy Knill and partner Alister Hartstonge have experienced all three tours, starting with a half-day tour of Berlin. They tell us it is, "a great way to orient yourself when you first arrive."
"Peter took us from West to East to many of Berlin's highlights such as Tiergarten, the Reichstag, Jewish Holocaust Memorial, Check Point Charlie, Alexander Platz and many amazing architecturally significant buildings."
Sydney-sider James George who also booked on to all three tours, again recommends the experience. "Germany in general, and Berlin in particular, are best seen astride a bicycle. The terrain is flat and the organisation of the tours outstanding!"
Their second tour is a full-day trip where you cycle from Berlin to Potsdam, through the outer suburbs of Berlin, through the Grünewald forest and taking you past the many spectacular palaces.
The tours are conducted in small groups, which James tells us, "means that the experience quickly becomes one of cycling with a group of friends, and the pace is personalised to the needs of the group. There is also plenty of time for photos, explanations of history and landscape, and breaks at cosy cafes and restaurants serving authentic food; the typical tourist traps are avoided."
The experience is clearly very different from cycling in New Zealand! "There is an outstanding network of bicycle paths separated from the traffic and designed for experiencing the beauty of the country. Where motorists are present, they are respectful of cyclists as cycling is very much part of German culture. The cycling is easy, both in terms of terrain and pace, but the paths might be difficult to follow without an experienced guide… Peter or Yuri look after routes and logistics." James tells us.
The final tour goes for four days, from Berlin to Dresden, through countryside and forests. Covering around 40km per day, with a detour on last day to take in the beautiful town of Meissen.
Staying at B&Bs and old palaces with your luggage delivered to the door along the way, James tells is, "the accommodation was outstanding, particularly the moated castle on the Dresden tour!" 
Peter guided both James and Roy & Alister's trips. "His enthusiasm and joy added greatly to the cycling experiences," says James.
"His contacts throughout the country make the trips more personal and authentic when it comes to accommodation, restaurants and general points of interest." Roy and Alister tell us, adding, "our highlight of our Berlin-Dresden trip was a spontaneous meeting of an artist friend of Peter's who took us for a late night visit to a deserted Nazi airstrip to view a massive art installation he was constructing. Something we would not have experienced if not for Peter's outgoing inclusive nature."
Yuri and Peter are quick to point out that due to the nature of cycling in Germany, lycra and crash helmets are not required. The flat cycle paths are 'easy', and even the four-day trip only requires a moderate level of fitness.
As for what to do with the rest of your time in Germany? As James cheekily assures us all at express, "you can never spend too much time in Berlin!"
Article | Oliver Hall