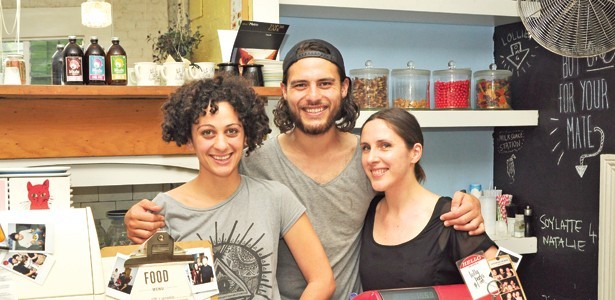 Oliver Hall sat down with Fred's Sam Te Kani and Tara Ogle the Whangarei hospitality duo making some of Ponsonby's best coffees.
"I used to work in a café in Wellington, where over half the staff were from Whangarei! My boss believed it bred the best people in hospo." Says Tara Ogle owner of Franklin Road cafe Fred's.
Tara currently has one staff member from Whangarei, Sam Te Kani who is also www.gayexpress.co.nz new movie reviewer. The two admit being from New Zealand's northernmost city does give them a bond.
"There's a jokey solidarity," says Sam. Tara picks a mutual opposition to Reggae music as an example. "If Reggae music comes on in the cafe, Sam and I are always like, make it stop! You didn't grow up in Whangarei!" She says, justifying that there is certain music that is just inescapable there and once you leave you never want to hear it again. Sam agrees and adds Ska music, Steely Dan, Tracy Chapman and Sarah McLachlan to the list.
Musical institutions aside Sam found it was generally okay to be gay in Whangarei. "There is a little community… it tends to be older guys who have come out of marriages and have kids," says Sam.
"There's also a lot of gay personalities in hospo in Whangarei who are not only accepted but, adored and idolized!" Tara points out, listing Sam as one of them.
They admit there can be some small town homophobia, but say, "it's not really, 'you're gay, I won't talk to you,' it's more, 'you're eating eggs benedict and that's a faggy thing to do!" explains Tara. Sam confirms giggling, "yeah, I don't think quinoa is a thing in Whangarie!"
Both hailing from the same small city and working in hospo Tara and Sam were destined to meet. It happened one fateful night when Sam was working his first job, bartending at Whangarei's Saloon Bar. Tara who did not work there was enjoying a debauched night out so much that she ended up behind the bar serving herself drinks, while casually informing a wide-eyed Sam how much she loved the latest Black Rebel Motorcycle Club album. She tells us that feeling hungover and regretful the next day she prayed she would never lay eyes on that boy again.
It took a couple of years. Sam returned to Auckland and was working at legendary K road eatery Coco Catina (owned by friends of Tara's). She was so shocked to lay eyes on him again – she offered him a day job, and he took it!
Tara who had previously worked at the likes of Zus & Zo and Little & Friday had always wanted to have her own café. She and business partner Matt took over when Fred's was known as Agnes Curran. Originally owned by Cameron Woodcock as a café/antique gift shop and named after his late grandmother. Renaming it after Tara's late father Fred, "felt really right." The café is fun, friendly, warm and inviting and Tara says, 'all about the local community.'
Fred's also serves Tara and Matt's own brand of all natural milkshake syrups (a NZ first) called Master Milkshakes, which specialize in unusual flavours like Apple Pie and Earl Grey Tea.
Both Tara and Sam say they will always work in hospo. "People, food and alcohol are my three favourite things," smiles Sam.
Proving that you truly can take the boy out of Whangarei, Sam confesses that these days he barely leaves the Ponsonby, K Road bubble. "He thinks going past Grey Lynn is a Safari," jokes Tara.
Fred's is located at 181 Ponsonby Road (entrance on Franklin Road).
Article | Oliver Hall. Photos | Tux Hika.