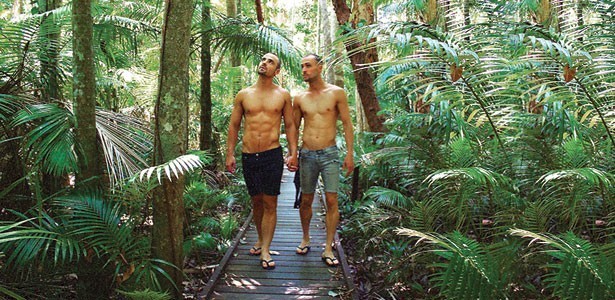 No matter how far you feel like travelling express has you covered and we speak to GLBT travel experts about your ultimate Winter break options.
Across the Ditch: give Cairns a go!
Considered the main entrance point for North Queensland, Jay Horne founder of Cairns Tourism Website Go2GayCairns.com and magazine FNQ, says the city is a perfect base for exploring Queensland's far north.
While the city does not have it's own gay venue, Horne says it still houses a big gay community and the growing demand for a bar/club means it will not be far away. Currently community groups meet regularly with weekly 'gay days', and monthly 'Drag-tastic' and 'out party' nights. There are also bigger annual events, such as FNQ Film Festival, which runs through the weekend of the 19-21 June and ends with a big 'Love Party', which will feature a host of visiting DJs and performers. In October the city will house it's inaugural Tropical Mardi Gras featuring ten days of events celebrating the outdoor culture with parties based around the beaches and the pools.
Jay advises you can't leave before having visited Great Barrier Reef and Fitzroy Island. "Cairns is all about the outdoors, whether it's in the ocean, on the islands or in the spectacular rainforest… There's something about being on Great Barrier Reef and see the living Brain Coral it's breathtaking… The sand that surrounds Fitzroy Island is actually made up of compressed coral – which looks so beautiful."
70km north of Cairns (a stone's throw in Australian terms) is exclusively gay resort Turtle Cove, located right on the beach in Port Douglas. The busy resort is popular with international travellers and features a men's nude week from the 22-27 of May.
If a bunch of naked men isn't your thing, the nearby Balinese-style Pink Flamingo caters to a largely female clientele.
Photo | Jay Horne.
Closer to Home: Rediscover Rotorua.
"It's like a garden of Eden. We've got this unparalleled natural beauty," say Labour candidate and local bar owner Tamati Coffey, as he describes why his hometown Rotorua is the perfect place for a winter break. "We have 17 beautiful lakes and wherever you walk the steam is literally bubbling up from under our feet.
When you want to return to nature – the [Whakarewarewa] forest is so beautiful and right now mountain bikers from all around the world are seeing that our tracks are world class!" He says referring to the Enduro World Series taking place in Te Puia.
He tells us his partner Tim describes the experience of biking through the forest as, "an hour-long free roller coaster ride."
Tamati says he feels those who visit Rotorua for a short stay may be missing out on one of the best town's best features. "If you're not here for long you run the risk of not realising how amazing the people are here. It's a beautiful community… The people have made a choice. They're educated. They've lived in big cities and they're done with the traffic jams, and the small living spaces – Rotorua is a life style choice."
He is also quick to point out the leaps and bounds that have been made in eating out options with the recent council investment and relaunch of Eat Street – a boulevard of restaurants – now geothermally heated, and boasting a covered central walkway with retractable roofing ensuring alfresco dining year round. 
"It looks like a marae, and now has a funky new cocktail bar, perfect for a late night espresso martini!" He says cheekily referencing his new bar Ponsonby Road. 
A Little Further: French Polynesian Paradise Tahiti.
When penning a feature for DNA magazine, soon after same-sex marriage became legal in France and thusly throughout French Polynesia, travel writer Leandro Ming stated that Tahiti had perfected the art of 'seductive decadence', lyrically waxing, "From the deck of your private bungalow you watch the multi-coloured fish swimming through the lagoon as you sip your cocktail and relax after your shredded coconut and hibiscus flower body scrub."
Not just a beautiful wedding location, French Polynesia promises a truly gay-friendly island experience. But with 118 islands to choose from – where do you start?
express recommends Hauhine – argued by some to be the most picturesque of the islands. Crassly translated Hauhine means 'woman's vagina' or 'woman's sex', and according local legend was watched-over by god Hiro – who had a legendarily large phallus. Even by deity standards! Some say you can feel his sexual energy flowing over the island when you visit, we draw the line at those who say the island's mountain is his erection as he sleeps.
Huahine benefits from being less expensive than the likes of Bora Bora, but does lack gay nightlife. If you need some sparkle to go with your cocktail head 175km southwest to Tahitian capital Papeete. Located in the centre of downtown the bar frequented by locals and Western gays and lesbians and local trans community known as 'Rae Rae'.
Luxury goods, batteries, sun cream and medicines are expensive so remember to pack all of them so you can spend your money on tours, water sports and of course cocktails. Beachy bliss!
Air Tahiti Nui has five flights a week between Auckland and Tahiti (Papeete).
Discover gay Tahiti at: www.tahitinow.com.au/about-tahiti/gaytahiti
As Far as you Like: Try a Cruise!
As the Cruise editor of Destinations Magazine Michael Hooper and his partner Chris are very familiar with the high seas, and thoroughly recommend setting sail for relaxing holiday.
"Celebrity Cruises have 'Friend's of Dorothy' every few days. They mention it in their daily activities bulletin, 'Friends of Dorothy meet in the lounge for cocktails at 5' and of course people who don't understand the good old code, just think Dorothy will be getting her friends together that night," he chuckles, confirming, "We find increasingly we are meeting more gay couples on the cruises we go on."
With so many Cruise options these days, Michael feels the size of the boat is important to consider. "If you are looking for a party boat, then the higher numbers are quite important. If you are looking for a more discerning higher service level – the smaller, the better."
He points out that the smaller ships also can be housed by more ports, so it gives you the chance of seeing more interesting and less touristy cities, as well as being anchored more centrally at bigger ports giving you more time to explore the destination.
"We've been going on smaller and smaller ships – this winter we're going a cruise from Greece that only has 96 passengers on it. [Even with so few passengers] I'd be very surprised if there weren't one or two other gay couples," he tells us, but laughs, "you may very quickly decide those are the people you want to avoid."
He points out some of the people they'd met were, "great fun, but you wouldn't want more than 20 minutes at a time," but assures they have formed decade long friendships with others.
Articles | Oliver Hall.