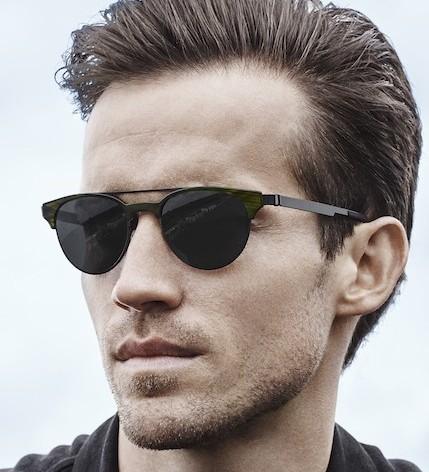 Taking a look at luxury fashion eyewear, express talks with two of Auckland's leading Optometrists, Alex and Naomi Bicheno from Mortimer Hirst and Renata Watene from Occhiali about what they expect will be in fashion this summer.
What's hot this season?
Mortimer Hirst's latest collection may have just landed, but already the new frames are flying out the door; featuring brands such as Christian Dior, Philippe Starck, Thom Browne and Oliver Goldsmith – all of which are exclusive to the store.
While there was a period where people opted more for contacts, glasses have made a comeback. "It's much more of a fashion accessory." Naomi explains. "Eyewear can give you such a different look. I have customers come in here and try on and purchase a number of different pairs to get different looks. It can change you're whole personality and styling," Naomi adds.
Renata from Occhiali agrees and says glasses are still very much a fashion statement, with the retro look still very much in vogue. "Thick is very much in. The rimless and thinner frames are becoming harder to find. Rounds also come back into fashion last year and are still on trend"
Alex notes the retro look is still very much here to stay. "The 70s and 80s look is making a huge comeback. That retro, big heavy look is still in," he says.
While the 70s look is currently being recycled, Naomi notes that the materials now being used has allowed for the glasses to become a lot more refined, giving the frames more of a modern update. "The oversize look is still in with more of a round shape coming through, although we're also seeing a lot more thinning of the materials, with a lot more metal." Says Naomi.
The innovation in hardware has allowed for greater creativity in the production of men's glasses. "You have products like Philipp Starck's glasses where the hinge is like a shoulder joint; it's 360 degrees, that's really appealing," Naomi notes.
Innovation in design is also a trend Renata has noticed in the brands Occhiali stocks. The store's biggest seller, Prodesign is a case in point. With an avant-garde approach to design, the Danish company have started to use a range of new materials in the production of their eyewear, including metal watch straps in addition to new combinations, including titanium combined with plastic to produce ultra lightweight glasses.
Both Occhiali and Mortimer Hirst note that colour is in this season, allowing for another added twist to the current retro craze. While the men's retro frames have barely ever deviated from the traditional black and tortoise shell look, this summer expect to see much brighter colours such as green and red coming through in men's eyewear, a trending fashion for women's glasses in recent years also.
In a quirkier comeback for summer, Occhiali and Mortimer Hirst note the return of the retro clip on sunglasses, with Alex from Mortimer Hirst sporting a pair. Renata notes the fit is a lot clearer than when the glasses were last in fashion. "They look much more fashionable and the clips fit a lot better than they once did. "They have become a lot more refined."
Article: Levi Joule.