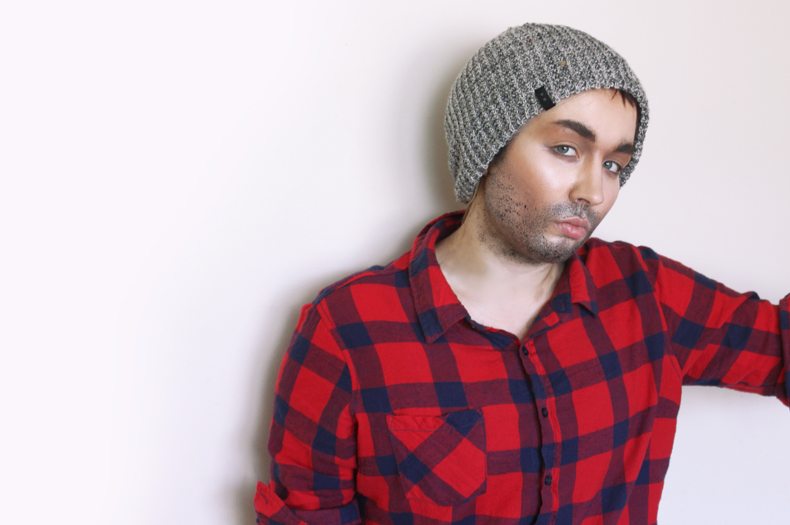 Stella Callisto, also known as her alter ego, Nipless Cage, is a producer, performer and Drag King. We had a chat with her ahead of the upcoming King of Kings Pageant and asked about the small, but growing, scene of Kings.
When did you realize that you wanted to become a performer?
I have been performing in one capacity or another since I was little. I actually have an associate qualification in effective communications (speech and drama) from Trinity College London. This background has given me a sense of confidence and ease in front of an audience. However, drag performance is so much harder! You really have to build up a wide skill set: dance, lip sync, costume, makeup, wig styling. It's endless and I feel like I still have a lot to learn.
What initially drew you to performing as a Drag King?
Dressing up as different characters and expressing myself through costume has always been one of my favourite things to do. When I found drag, it seemed like a natural extension of something I already loved. Lola Blades introduced me to drag in Palmerston North through a local show she produced, and after that I was hooked. I wanted to take part, so I started researching and came across Drag Kings. I ordered crepe hair off the internet and I've never looked back. Luckily, at the same time as I was discovering how to be a King, I also found others who were starting out also, particularly my good friends Peter Packer and Hugo Grrrl. Having that support network and people to send frantic messages about crepe hair and spirit gum was crucial.
Have you ever considered making drag performance a full time pursuit or is it more of a hobby for you?
I live and breathe drag, and I would love to work full time in the drag community. Personally my true passions lie in the organisational side and putting shows together. This is where I could see the most future for myself. I am still working on furthering my studies in psychology and hopefully I will reach a happy medium where I can still work in drag and also utilise my degree.
How did you choose the name, Nipless Cage?
It started out as a joke after a few people said I reminded them of Nicholas Cage in drag. When I dress as a King, I bind my breasts back to create the illusion of a flat chest which makes my nipples disappear. Hence it evolved to Nipless Cage. It always makes people laugh when I tell them, so I've stuck with it.
How accepting do you think society is of Drag Kings in comparison to Drag Queens?
I have had a few occasions in my King career where people have said that they wouldn't involve a King because we are "harder to understand" or else they have not made the effort to respect me as a performer. However, I have also had a lot of support, including but not limited to; being involved in a Drag King showcase at the Ending HIV Big Gay Out, performing at Family Bar as a King and also shows at Kita and Anita's Drag Wars. Wellington has a fabulous and ever-growing King scene that I am always excited to work with. As a King you have to push harder to get work or create it yourself. However, it's exciting to see Kings being recognised and accepted more and more. This King of Kings Drag King Pageant this Sunday at Family is a huge opportunity for Kings nationwide to showcase what we do.
How would you describe your appearance in day-to-day life? Do you think that your personal style is influenced by drag?
My daily life style is very low-key and casual but my personality is pretty consistent. I'm very talkative and loud. I like to think that I'm friendly and get along well with with most people. I struggled with body image for a long time and drag has helped me confront these issues. It has increased my confidence and I find myself more willing to take risks and try things out. Drag is the one place I can be truly over the top.
There's this weird idea that Drag Kings can't be glamorous, as glamour is seen as being inherently female. What are your thoughts on this?
Drag and the interpretations people have of the concept of "king" or "queen" are immensely diverse. It can be fun to grunge down and try looks that eschew the typical notions of glamour. Equally, as a King you can wear heels, sequins and glitter. I have experimented with all sorts of styles and I truly think there are no boundaries. In terms of my personal drag evolution I am inspired by figures such as David Bowie, Marilyn Manson and local legend Deezastar to name a few. I have been hard at work thinking and attempting to create looks for the pageant that will allow me to express a truly glamorous side of masculinity. I have also been lucky enough to have had Kneel Halt (Deezastar) bring some custom costume visions to life.
Callisto is competing in New Zealand's first Drag King Pageant, King of Kings, at Family Bar & Club this Sunday 29 January. Go support Auckland's local talent and perhaps learn a thing or two about this flourishing phenomenon.