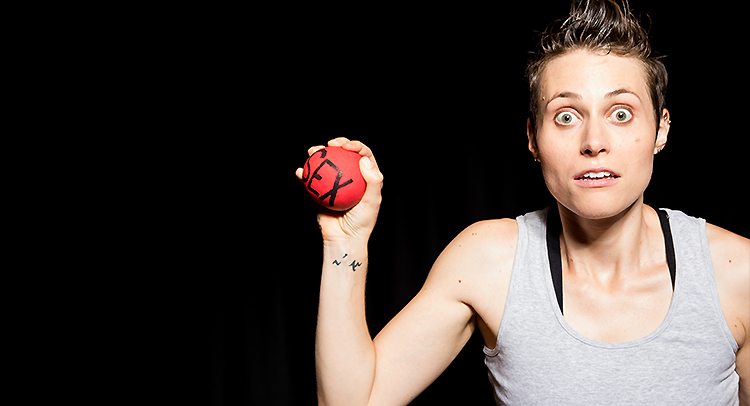 "Ze": Queer as Fuck! is a dark comedy about sex, gender, and the expanding parade of labels and identities Michelle/Ryan claims on zir way to pride.
In this international queer-origin story, Michelle/Ryan rips the bandage away from zir startling American-Puritan upbringing and is catapulted by each new experience through a complex and surprising "coming out" process as a femmesexual, kinky, polyminded, gay-divorcée, genderqueer.
The show tells the story of an upbringing vastly differing from your typical American childhood all the while dealing with a multi-layered coming-out process. Along their journey, ze stumbles across a community that, at times, can be just as narrow-minded and outrageous as the one ze's just left behind. Michelle/Ryan showcases labels used for individuals such as "ze" as well as making fun of them in a modern world where we are constantly battling to show our individuality and what defines us.
Part theatre, story telling, and stand-up, Michelle/Ryan both uses and parodies the labels meant to help an individual embrace their truth in a modern world desperate for definition. "Ze" brings the audience along a rarely told journey of gender-fluidity and micro-identities and confronts stereotypes both within and without in a Pride-worthy celebration that exposes the complex tension between being authentic to oneself and belonging.
An exceptional piece of work anchored by a performance by as talented an actor as you will see currently on any stage in the country. It's a raw and incredibly intimate journey that should be compulsory viewing for the fainthearted, the timid, the binary-obsessed, the religiously-driven…it may well change your life. – Lexie Matheson, theatrereview.org
Presented by Michelle/Ryan, and directed by Peter Larsen, "Ze": Queer As Fuck has toured successfully in Australia, Canada, the US, and select locations in New Zealand. It has been nominated for Best Comedy at Fringe World in Perth, won 'Best Use of an Awkward Silence' in Toronto, and placed for 'Artistic Risk Award' in Vancouver, and has enjoyed rave reviews and sold-out audiences in every country.
"Ze" is Michelle/Ryan's second autobiographical show and zir first performance at the Auckland Fringe Festival as an Auckland Pride Festival Affiliate event.
This is definitely a show not to be missed and is one of express' top picks for Auckland Pride!
"Ze": Queer As Fuck runs from 21-25 February at Q Theatre's The Vault, 305 Queen Street, Auckland. For tickets and more information, visit www.qtheatre.co.nz. Contains coarse language and explicit sexual references, 18+.

Note: "Ze" is a gender neutral pronoun for she/he, "zir" is a gender neutral pronoun for him/her. Please use ze/zir or they/them.