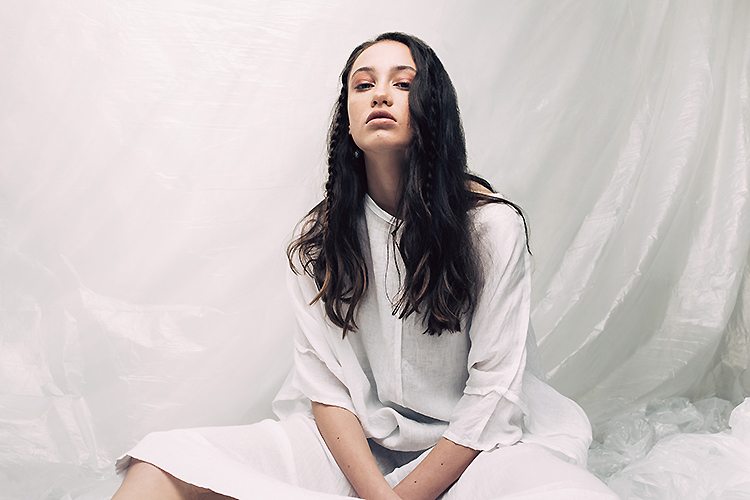 For most, she is relatively unknown, but 24-year-old Courtney Perham, a young Kiwi designer, has a bright future ahead of her and she's breaking all the gender norms to get there. express sat down with Perham to talk about her inspirations behind creating her own line and what it means to her to be breaking all the rules.
What sparked your interest in fashion?
I guess it started in high school when I developed an obsession with op shopping and second hand clothing. When I left high school, I was torn between my family wanting me to become a nurse and secretly applying to design school. Once I chose to pursue fashion I think that's when my interest took off. I quite quickly found my own method of working and style in my first year of study and my vibe as you could say rapidly evolved from there. I think my final year of study really cemented what I wanted to bring to the fashion world once leaving tertiary education. I was able to work freely and really tailor my process to what worked for me, which only heightened my desire to have my own label.
What do you think about the bullying that happens to people in the LGBT+ community based on their clothing choices?
I don't think anyone should be bullied about what clothing they chose to wear. Clothing is the biggest form of self-expression we have and everyone should have the right to express themselves without judgement and negativity. Stereotypes and perceptions aside, what we choose to wear has such power when it comes to how we feel and how we present ourselves to the world. I think everyone deserves to walk out the front door feeling a million dollars.
What was the main reason you became a designer?
Designing is where I found the most happiness, my form of creative expression. I was challenged yet excited, nervous yet fearless. I just knew design was something I needed to pursue to find out what would come of it.
Image credit: Logan West
Are you self-taught or did you study fashion/design?
I studied a Bachelor of Design – Fashion at AUT graduating in 2014. From there I launched my capsule label in April 2015. Since then, I have produced four capsule collections and am currently working on our fifth. We are based in Auckland working from my studio at home and also share some studio space at The Keep which is based on K' Road in Auckland's CBD.
What made you focus on designing genderless clothing?
I can't really pinpoint where it came from. I think I am just a strong believer that if you want to wear something you should no matter what society defines as womenswear/menswear. So creating a genderless label allows anyone who is all about the clothing to feel comfortable! I find oversized garments with interesting silhouettes so much more stimulating then the latest bits and pieces you find walking down Queen Street, whether these are for men or women.
What inspires your clothing?
So many things! I get inspired by music, photography, fabric and form. My friends and family also inspire me quite a bit as well as the beach and the forest.
Image credit: Laura Snelling
What impact do you hope your collections will have in the fashion industry?
I aim to create pieces that give the client a 'special' feeling when they try them on, yet are able to be easily introduced into the buyers' wardrobe and work with other pieces they already have. It really is all about comfort and ease. Although my cliental is only small at the moment, if I can provide that feeling for someone, then I have achieved something.
What are you fascinated by at the moment and how does it feed into your work?
I think as the season is changing I am getting ready to hibernate and this is really influencing what I am making. Foreseeing what I will need for my winter adventures. I seem to be obsessed with making the perfect sloppy jumper, finding the ideal natural fibre to obtain the shape I have in my head is my current challenge.
How has your work evolved since you began your own label?
I think I have been able to gain more confidence in what I do and the clothing I create with every successful capsule collection. This in turns means the process becomes more enjoyable and I have the confidence to try new things and challenge myself a lot more than I did when starting my label. I no longer have to second guess myself on the basics therefore can push myself in other areas of the business.
Image credit: Nikita Brown
What advice would you give young designers and/or dreamers?
You do you. Enjoy the process; the good and the bad. With hardship only comes growth so embrace it. I believe happiness is key so find what that is for you and run with it. No one wants to buy sad clothing!
To check out her clothing label, visit The Keep, located at 504 Karangahape Road, or head on over to her Instagram @courtney.perham.