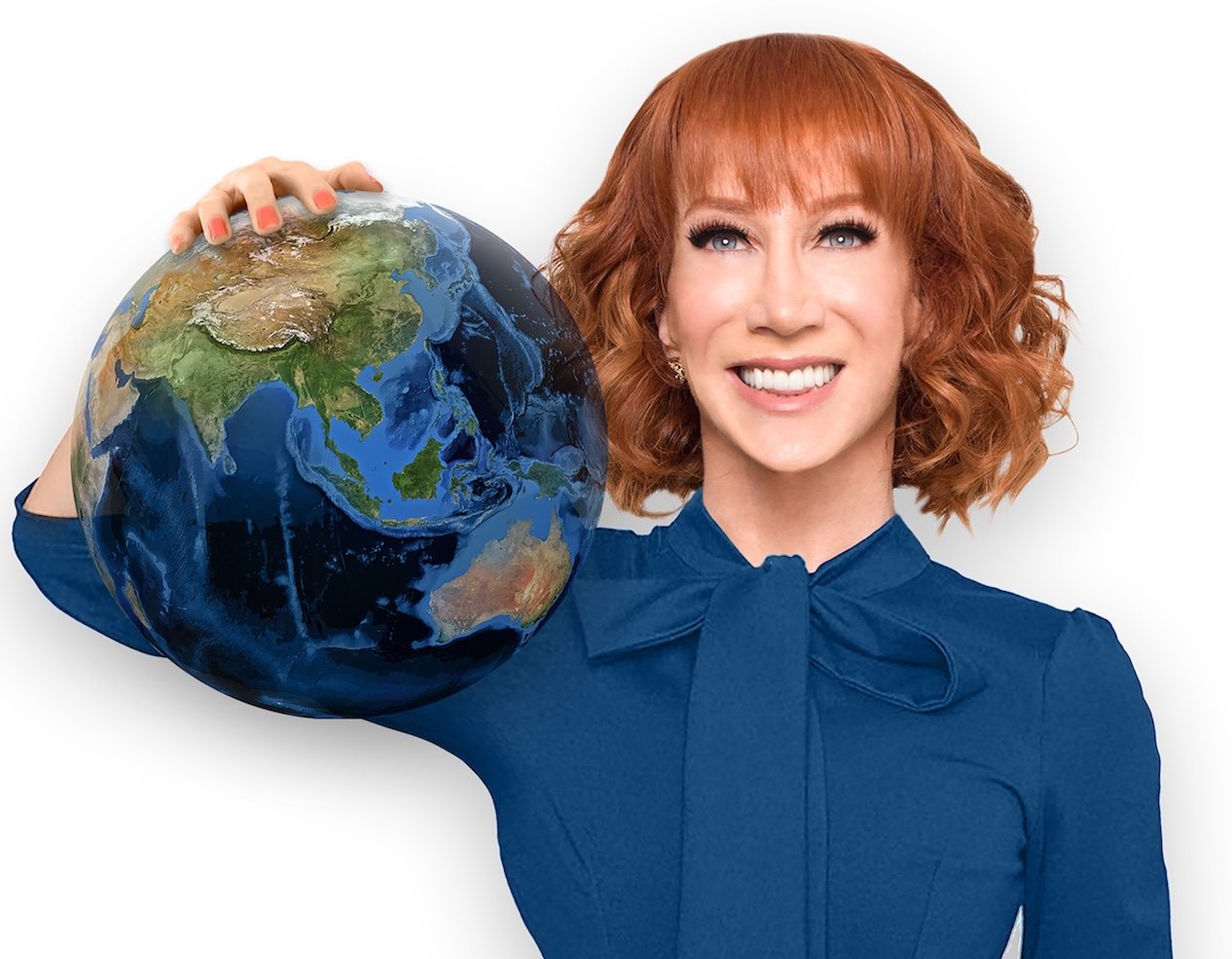 Queen of our hearts Kathy Griffin, whose Laugh Your Head off Tour comes to Auckland on 19 October, talks with Express's Oliver Hall about her A-list neighbours, her LGBT history and the photoshoot that nearly executed her career.
I waited for Kathy Griffin's call in a quiet space reading over my many questions, recording device in-hand. But as the call connected it became clear my preparation was not necessary. My plan needn't have been to do more than say 'hello'. Kathy would be doing the rest of the talking. Diving into our call with an unaided monologue that would swoop past our allotted 15 minutes and beyond. I simply needed to sit and listen.
First on Kathy's agenda was to talk about her home in Bel Air and reveal that her next door neighbours are Kim and Kanye Kardashian-West. Just as I am imagining Kathy leaning over the fence to borrow power-tools and self-raising flour, Griffin levels with me, "I just lean over the fence and get my whole act," she exclaims, "and that's on a slow day when just one of them is home! I have kept up with the Kardashians!"
"My 97-year-old alcoholic mother thinks at this point Kim is trying to latch on to my fame," she jokes with a nod to her recent political controversies (she will get to these later), " I don't know if you can hear that sound right now, but I think they're printing money over there."
"I'm proud to be the token white girl in an affluent African-American neighbourhood." She says she is keen to talk about the neighbourhood her successful career has allowed her to buy into. She tells me her neighbours include Stevie Wonder, Babyface and (Kylie Jenner's ex) Tyga. "I'm often on my front lawn in a muumuu with rollers in my hair shouting you slow down young man at him," she informs," I'm like the Neighbourhood Watch!"
After cutting her teeth on improvised comedy and a very small part in Pulp Fiction, Griffin came to prominence in a supporting role on sitcom Suddenly Susan in the late nineties. After the show finished in 2000 Griffin picked up a number of reoccurring supporting television roles and performed stand up before bagging her our reality show, My Life on the D List in 2005. Alongside it Griffin performed a number of televised comedy specials (many that were released as Grammy nominated comedy albums) and wrote a bestselling autobiography. In 2006 and 2007 My Life on the D List won back to back Emmy's leading Griffin to be tapped by CNN to host their New Year's Eve broadcasts alongside friend (and out-Silver Fox) Anderson Cooper.
What has remained consistent throughout Griffin's career is the mutual admiration shared with the LGBT community. In America she was a prevalent supporter of same-sex marriage and the removal of Don't Ask Don't Tell. "My drunk mother still has the best pro-gay marriage sign made to date," she muses, "Gay Marriage – I'll drink to that – she marched, diapers of course!"
"I was the ginger kid in the corner that got picked on, who would find the gay kid in the corner getting picked on too and we'd always become best friends," she's says citing the moment her 'legal marriage to the community' began. "People would be like, Little Timmy is so shy we haven't heard him talk in 8 years, and I was like 'I was on the phone with Little Timmy until 3am last night."
Her history lesson concluded, Griffin has some gay politics she wants to get off her chest and I am happy to run this gauntlet with her. Firstly, Australia's plebiscite comes under fire: "Malcolm Turnbull and I will not be talking when I come to Australia because that plebiscite is some bullshit – but congratulations to your country for being much more forward thinking!"
Then we tackle the naming of a straight best friend, "I have always been a gossipy fag-hag… I am trying to hang on to that term. You can't say the 'f' word anymore but I want to talk to the gay mafia about that, because I don't want to be a fruit fly!"
Then for a moment there is an unexpected pause, but before I can ask a question she does, taking aim at LGBT labels.
"Oliver, are you a gay guy?"
"I am."
"The bad news is we don't care about you anymore. Unless you are fluid or transitioning or pan you're old news …. I mean my career has had ups and downs – you may become fashionable again, but not today… to sell more tickets, if you want to say that I came out in the interview as fluid/pan/trans and chuck in a few more letters and numbers, I may just be okay with that… you can even make up some new letters!"
It's controversial comments like these that have defined Griffin's career, losing her some jobs but simultaneously increasing her prominence. However, the ramifications of a recent controversy lost her more jobs and gained her more notoriety than any other.
On the 30th of May this year, Griffin posted a behind the scenes video of a shoot she was doing with shock-photographer Tyler Shields. The video showed Griffin holding up a tomato sauce covered mask made to looks like the severed bloody head of Donald Trump. She later apologized for sharing the image, but the damage was done. She was dropped by every job she had. She calls the experience 'historic'.
"For the first time in US history a sitting president has come after a person using the power of the oval office and the first family and the Department of Justice to put me under a two-month long investigation with the FBI [which concluded at the end of July] – like I'm a criminal! You can hate that picture, but there is nothing illegal about it."
Even celebrities who had campaigned against Trump were quick to disassociate themselves with Griffin and denounce the picture. These included Chelsea Clinton and Kathy's long-term friend and colleague Anderson Cooper.
"The Anderson thing hurts because LGBT rule 101 is don't turn on your long-term hag who has been there for you!" She tells express.
She believes it is because of her gender and her age (56) that made it acceptable for the left wing to turn their backs while the right stuck the knife in.
"The sexism is obviously escalating in this country because of this accidental president. Look at someone like Johnny Depp who did something very similar to what I did," she says pointing to Depp's comments at this year's Glastonbury festival, where he joked about assassinating Trump. "Here's a guy with a history of domestic violence, but also the head of a very profitable movie franchise, and after he tells that joke the Pirates of the Caribbean people came in and took care of him and he's suddenly photographed with needy children and he's still going to presenting at the Academy Awards – I think it's a woman thing – there is still a very strong feeling that a woman, particularly someone still doing it at 56 – people still have a hard time with a woman being successful in a man's field. I didn't just lose my CNN job, I lost my 50-city tour in 24 hours… They [Trump's supporters] flooded the theatres with death threats they even did robocalls – it was a campaign!"
But in even in this gloomy chapter of her life-story Griffin found a positive light. "I thought because I have so many crazy stories from this experience, I now have a show I can take to Auckland! I have Trump stories, I have stories of me going in for my FBI interviews – the best thing I can do is get back on the road."

The inspiration for returning to touring came from the advice of a departed friend, who Griffin knows would have had her back if she's still been around. "As my dear friend Joan Rivers would say there are so few women who can hold an audience with nothing but their brain, a mouth and a microphone. I knew that's what I had to return to."
Kathy Griffin's Laugh Your Head Off tour comes to Auckland's Bruce Mason Centre on Thursday 19 October. Tickets from www.ticketmaster.co.nz