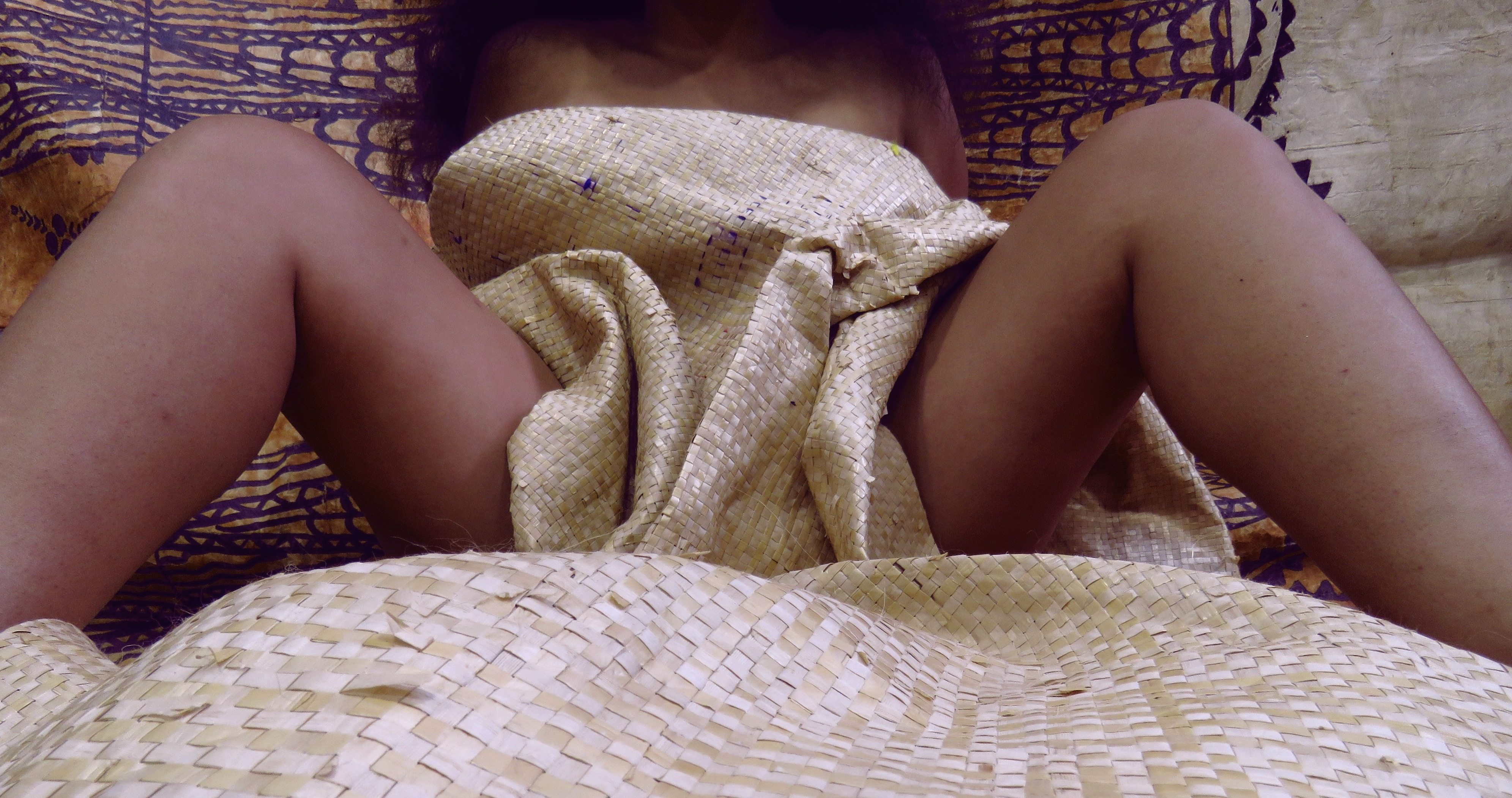 Fala Muncher: A derogatory term which refers to the act of a female of Pacific descent partaking in the licking and eating of another woman's Fala.
"Fala Muncher is a show for bringing [together] Pacific women's stories, girls who are finding themselves, LGBT+ community and just showing them that it's OK to be whoever you are," writer Lyncia Muller tells me as we sit at an Auckland central cafe, just a few weeks out from opening night.
"Coming from a Polynesian background, our families are pretty strict and religious so it's kind of hard to like girls…"
"…to be who you want to be" Director Amanaki Lelei Prescott-Faletau adds.
"Especially being brown and being a female and for me personally, being Tongan," says Lyncia.
The all-female cast is of Tongan, Cook Island, Samoan and Māori descent and are recent graduates of the Pacific Institute of Performing Arts (PIPA).
"We thought, what a unique story of having all these Polynesian women come on stage and talk about sex, talk about vagina and talk about coming out," says Amanaki.
She says they wanted to push the boundaries and test their religion and culture.
"It's about women being comfortable in their skin and being out loud about it, and not having to be ashamed."
The show features the stories of a number of women in their early twenties in different stages of coming to terms with their sexuality. Not everyone in the show has come out and for one of the cast members, the show will be the moment they do.
Some of the performers are out, loud and proud but the group is a family; supportive of those who aren't quite there yet. For those women, it's a bit different when they go home.
Lyncia says her thinking was "If you could just change that one girl in the audience, to change their mindset or be comfortable in who they are, then that's our job done."
"It's for the girls who are secretly…" she pauses. "That might come with their friends?" I ask.
"…Yeah and can relate to our stories."
Like in all arts, women and people of gender minorities aren't often as well supported in the industry as their male counterparts. In a room full of industry professionals and theatregoers, we chat about the realities of this.
"A man could walk in here and be demanding, he's a boss. If a woman comes in and she's demanding, she's a bitch," says Amanaki.
That's one of the reasons they are coming together to do the show.
"I have some feminist friends who are like 'but you're trans, you're not a woman'," says Amanaki.
"I'm so happy that I'm trans and I'm directing the show because I like going against the norm."
"I was like, ah nah, watch me direct the show, because I'm a woman, watch me do two shows in one month, OK?" Amanaki is choreographing the Fine Fatale show Geish/Tuiga, also part of the Auckland Pride Festival.
"Also working with these girls was an opportunity for me to use my platform to put more brown skin on stage, with unique stories."
I ask about their role models and they are quick to list the names of strong, inspirational, Pacific women in the performing artists and media industries.
Rachel House, Lisa Taouma, Sima Urale, Makerita Urale, Olivia Taouma, Anapela Polataivao they tell me, with barely a breath between.
"Coming from a Polynesian background we have so many strong Polynesian women that we kind of channel, or look up to," says Amanaki who tells me the stories of the Queen of Tonga, Nafanua and Dame Whina Cooper.
"This is the stuff we learnt at PIPA and it's those things that get us fired up and gives us the confidence to know that we come from that same lineage, we come from the same place.
"Knowledge of who you are is such an important thing."
If ever in doubt these are the women they think of "It will be all good, these women did it, we gon' be fine.
"…Oh and Beyoncé, I love Beyoncé."
While they aren't afraid of critique from the performing arts industry, Amanaki says, "From our Pacific community, I'm shit scared".
I ask how they deal with that and Amanaki tells me they have a really strong group of friends who have their back no matter what.
"I wouldn't put them up there if I knew that we were going to get stoned to death. I feel like it's safe, I'd stand for them and so would so many other people."
Speaking up for those who don't have a voice, or who are less fortunate is more important than anything else.
"I think just being brown and a lesbian is a big issue in itself," she says.
Lyncia chimes in, "There's actually low-key so many Pacific girls who are in the closet still so it's just really important to let them know that it's all good."
"…and you see it every now and then," adds Amanaki, "You see brown lesbians and it's cool but to see it on stage and in your face is a different story."
"You get to see our stories," says Lyncia.
Fala Muncher 13 -17 February, The Basement Theatre.