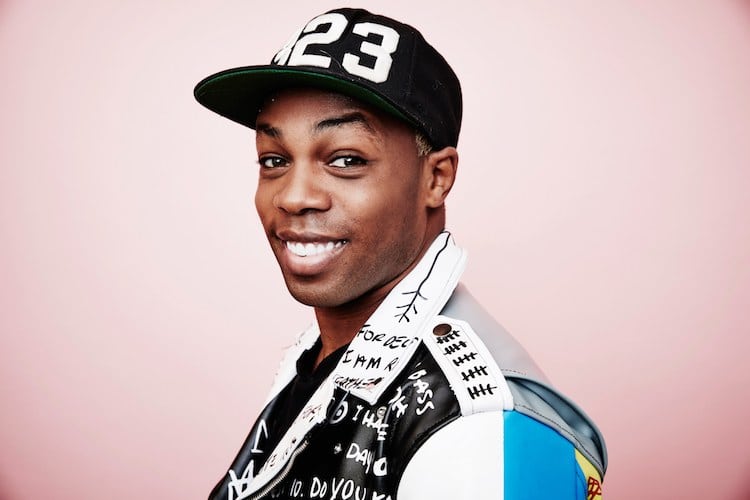 From a Broadway actor to pop star to Beyonce's choreographer with his own reality show –Todrick Hall has done it all! He talks to Oliver Hall about taking advice from bestie Taylor Swift, being gay on American Idol and if being black held him back from Glee.
---
Todrick Hall calls express from Tucson, Arizona, where he is soon to be due on stage to perform his Forbidden tour – a tour he brings to Auckland this month. The tour is in support of his second full length visual album Forbidden, that follows the hugely successful Straight Outta Oz.
"It's a cross between a Broadway musical experience and a live concert experience," he tells express about the show where the album is played out in full, followed by an encore of his previous hits, including many tracks from Straight Outta Oz.
The albums have received extraordinary acclaim for their high production values, leaving them comparable to Beyonce's own B and Lemonade, yet Todrick directed the videos himself.
"It can be very difficult working with one tenth of what other artists have to make a video," he tells express. "From the makeup to costumes, to every single aspect of the visual album, people have brought their talents and worked for less money than they usually would, because they believe in the project. They believe in the message and they believe in the vision of where I'm looking to take my career."
Another deceptively expensive element of Todrick's work is the incredible amount of guest artists who appear on his albums, from his Ru Paul's Drag Race co-stars, to divas like Brandy, Nicole Scherzinger and Jordan Sparks; but one name that really stands out from the crowd is Dark Knight Rises and Inception star Joseph Gordon Levitt who guests on the track Blah Blah Blah and stars in its video.
Todrick shares our surprise for Levitt's involvement. "I was blown away because he has such a legitimate career and for him to think highly enough of me to come and be a part of my visual album without asking any questions, or who else was involved, he just said "I love you and I love your drive and I will be there." The two met while filming Todrick's self-titled MTV reality show, which highlighted his struggle and success of creating magic on a shoestring budget.
Todrick had been approached by MTV after producers had been impressed by the content of his Youtube channel and they weren't the only ones. Todrick was also approached by Beyonce to choreograph her video for Blow and feature in her video for Superpower. Taylor Swift did the same recruiting him as a dancer for her Look What You Made Me Do video.
While you would expect Todrick to have a closer infinity with Beyonce who is closer to his age and also originates from Texas – it's clear from the passion in his voice that he is Team Tay Tay all the way.
"I was found by both of those artists on the internet. I had an amazing time working with Beyonce. She's always so sweet and so accommodating… But Taylor Swift and I really hit it off – she's one of my closest friends… she's been a mentor to me because she's already experienced so much of what I'm going through, even if it's a miniscule problem I' having with a dancer or someone selling merchandise on my tour, and I'm wondering how I communicate with them, she knows just the way to tell me how to do it. She does a really great job of ensuring she has a personal one on one relationship with all of her employees. She's taught me so much. It's so cool that the internet can bring people together like this, even people from different walks on life who in theory should never meet each other."
Amongst his successes Todrick has also had to face some public rejections. In 2010 he made it through to top 16 of American Idol but was eliminated before making it to the top finalists. He tells us this experience taught him a lot. "When I was on American Idol I held back a lot. The world had a very different climate back then and I didn't talk about being gay on camera, because even though my family knew, I thought it would ruin my chances in the competition. After that show I felt like I didn't represent myself well and I didn't represent the gay community by keeping it a secret to get ahead. I vowed to myself that the next opportunity I got I would be much more open because if I got kicked off I would at least be kicked off for being 100% me," he says, adding that in the age of president Trump, "it's more important than ever to open about who you are and who you love."
One show that Todrick's attitude and talent seemed like a perfect fit for was Glee. A fan of the show Todrick even produced a lavish music video for a song he wrote and released called, 'I Wanna Be on Glee'. "I would have thought that would warrant a legitimate audition," he tells express of is hopes for the video, but sadly no invite was forthcoming.
"[Glee creator] Ryan Murphy is a really talented director who I would love to work with, but sometimes it feels like shows have a quota. People feel like if they have one black person or one ethnic person in their cast, the casting director's done their job," he tells us – pointing to another of Ryan Murphy's creations American Horror Story as a prime example of this. "There was a meme going around showing all the different cast member that said 'how are we meant to remember who anyone is, when they all look the same.' This is why I was so passionate about creating my own YouTube channel so I don't have to wait around for a Ryan Murphy or any other director to give me a chance to use my creativity because they haven't written a script that contains more than one African American character."
In terms of his next project after the Forbidden tour is finished Todrick says he likes to live life spontaneously. "I don't know what's coming around the corner. I'm just waiting for the next call that excites me.
Todrick Hall will bring his Todrick Hall American: The Forbidden Tour to Auckland's Bruce Mason Centre on Friday 8 June. Tickets available from Ticketmaster.