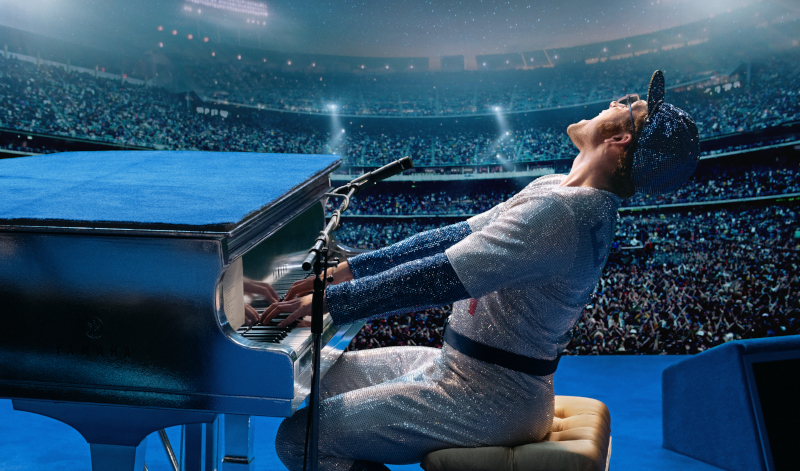 Taron Edgerton and Jamie Bell tell Nathalie Petre about their starring role in Rocketman, the long-awaited Elton John biopic, which they say will tell the full story of the divo and his demons.
Often biopics of famous gay man are criticised for straight washing their lives. It was an accusation thrown at Boeheim Rhapsody, but the recent Queen biopic, Rocketman's central subject is alive and has had significant input into the story it tells. Judging by the buzz coming from cast and crew Elton John is happy with a warts-and-all portrayal.
The 29-year-old, actor Taron Edgerton (Kingsman, Eddie 'The Eagle' Edwards) will be playing Elton in Rocketman, which hits NZ cinemas on Wednesday 29 May. "Without his blessing, this movie doesn't get made. It's too vulnerable! It shines a light in places in that a very vulnerable for him and other people around him," he tells express.
These comments mirror an interview he did with GQ where he told their reporter the film wouldn't shy away from John's sexuality just because it may be unpopular in some markets. "I don't care how well the film does in Russia," he told them. "It can't matter. What's an extra $25 million at the box office? What are you willing to do for that? Sacrifice sleeping at night because you watered the whole thing down?"
Director Dexter Fletcher has backed Taron's statement tweeting that the film would be 'no holds barred'.
Sexuality is not the only possible contentious issue the film deals with. Elton has had a long-publicised battle with drugs and alcohol which Rocketman will also explore.
Edgerton surmises that Elton's demons are the natural product of the double the double-edged sword that is the entertainment industry. "You have a lot of expressive, emotional, vulnerable people who convey their interpretation of the world and expose themselves through their art," he tells express.
"They then get the attention of other people and it can be quite intense and you feel like you're in a spotlight and this requires you to be vulnerable and exposed, but at the same time robust and thick-skinned," he says with a look that notes the impossible contradiction.
"Our film is about Elton John saving himself."
The music of Elton has been 'ever present' for Taron. When he was a child he would sing along to Elton's greatest hits with his father in the car on the way to school. His first memory of seeing Elton was in the videos for his songs from the Lion King soundtrack (which won Elton and songwriting partner Bernie Taupin an Academy Award) and it was Edgerton's rendition of Elton's classic 'Your Song' which landed him a place at drama school.
He tells us he sees a lot of himself in his musical idol.
"I'm not quite as extreme as Elton, but I do think we're very similar. I am someone who is quite 'heart on the sleeve'. I can be a big personality but I'm also quite vulnerable, which is kind of who he is as well. So both him as a character and the musical element of [Rocketman] gave me quite an inherent sense that this was part that I could or should play," says Taron who scored the role which had previously been linked to the likes of Tom Hardy and Justin Timberlake.
Jamie Bell, who will be playing lyricist Bernie Taupin first met Elton John at the premiere of Bell's breakout lead role in Billy Elliot.
Jamie says their connection was instant. "The first time I met him was at the Cannes Film Festival. He had been at the screening, and he was just weeping. He was really very moved by it, just like his music had moved me. I think it was the relationship with the father in that movie. I think that reminded him of his relationship with his own father. It was the first time I met anyone who was really famous." Elton John would go on to write the music for the stage production of Billy Elliot the Musical.
Jamie says he and Elton have been "tethered together" since that initial meeting and Rocketman is the ultimate way to "cement that."
Like his co-star, Jamie had an earlier fondness for Elton too. "I had a karaoke machine as a kid. Candle in Wind was on there and I remember reading the lyrics and thinking this is such a sensitive piece of material. I must have been a very sensitive kid. I remember being very saddened by the idea of someone saying none of them understood you, but I did, and I loved you."
Taron Edgerton met Elton in the run-up to making Rocket Man, but the relationship is just as close. The actor has stayed with Elton a number of times and the two have now grown so comfortable together they will sit around in silence doing crossword puzzles. "We've spent enough time together that the 'show' has gone out of the relationship now," he says.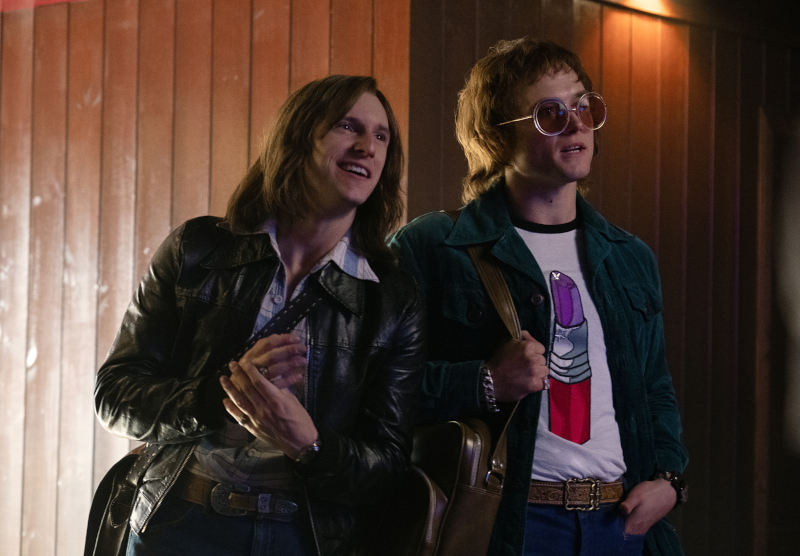 "I really love him, and I feel quite let into their life. I feel quite lucky to have that because what it's meant is that the experience of making the film has felt quite important not only in the sense of the legacy of Elton John but important because I care about him as a man. He's a really beautiful person and it's important to me that everyone sees that."
The close working relationship Edgerton and Bell portray on screen is central to Elton John's story. Many of Elton's biggest hits have been co-written by Bernie. Jamie describes their dynamic as "each other's yin and yang."
While the journey of Reginald Dwight becoming Elton John is Rocketman's key focus, Bernie Taupin's rag to riches tale is also a vital part of one of music's biggest success stories. "He's someone who wanted to escape and make something of his life," Jamie says.
To prepare for the role Jamie read Bernie's autobiography and visited him and his wife at his palatial Santa Barbara home, which highlighted just how far the songwriter had come.
"He was most concerned he'd be a chicken farmer the rest of his life. He worked in a chicken slaughterhouse and would scrape up dead chickens off the floor with a shovel before he was a writer." Jamie concludes the fill will tell, "a universal story of trying to escape your circumstances."
Rocketman lands in NZ Cinemas on Thursday 30 May.