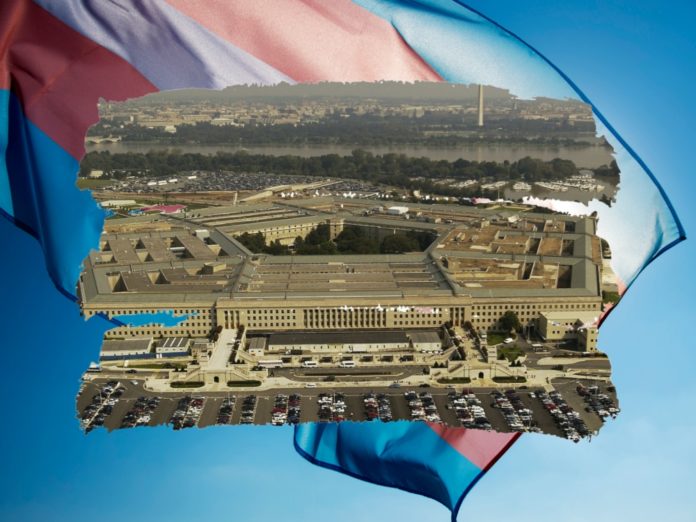 A Trans Naval Officer is suing the U.S. Pentagon claiming Trump's military ban will force her out of her job.
This is the first action against the armed services since the ban on trans military personnel serving openly was enacted last April.
In a lawsuit filed in a Massachusetts Federal Court on Mar 17, a woman referred to as "Jane Doe" said the Department of Defence guidelines mandating that soldiers must serve in accordance with their "biological sex" leaves her with few options to continue her military service.
Doe came to terms with her trans identity after undergoing counselling and was diagnosed with gender dysphoria in June 2019, just two months after the trans military ban went into effect.
Transgender troops who were inactive duty prior to the implementation of the ban had the option of being grandfathered in, but Doe isn't as lucky.
According to the lawsuit, she is facing an "involuntary discharge from service and the end of her Navy career solely because she is transgender."
Because Doe has chosen to remain anonymous in the lawsuit, she was unable to comment for this story.
But Jennifer Levi, director of the transgender rights project with the GLBTQ Legal Advocates & Defenders (GLAD)—which filed the suit on behalf of Doe—says the potential discharge has been "very stressful" for the plaintiff, as it would be "devastating for her to lose both her livelihood and her calling."
"The military is effective when everybody who can meet the demands of military service is allowed to continue to serve," Levi says.
"There's no reason for her to be discharged simply for who she is."
Doe is being represented in her case by GLAD, as well as the Philadelphia-based law firm Morgan, Lewis & Bockius and the LGBTQ advocacy group National Center for Lesbian Rights (NCLR).
Shannon Minter, legal director at NCLR, said what makes the lawsuit unique is that it represents the "first challenge that's been brought since the ban actually took effect."
There are four other Pentagon lawsuits making their way through the court system, but all were filed prior to April 2019.
The Pentagon has 14 days to reply to the litigation but has reportedly requested more time to respond to the complaint.
Minter also says the aims of Doe's lawsuit are different from other plaintiffs challenging the trans military ban as a whole. "We're not asking the court to strike down the ban for everyone across the nation and its entirety," he said. "We're asking the court to give relief to this one person. She's bringing this case because it is her only real hope of being able to remain in the military."
LGBTI+ advocates hope, however, that Doe's case illustrates what they call the absurdity of the military's policy banning trans people from service, first announced in a July 2017 tweetstorm by President Donald Trump. (Although Trump has claimed allowing trans people to serve openly in the military would be expensive, disruptive and burdensome, a 2016 study commissioned by the Department of Defense found that trans service would not harm unit cohesion or result in exorbitant costs for the federal government.)
"Every single person in the military has to be deployable. The only thing that this policy does is exclude people who otherwise meet all of the requirements"