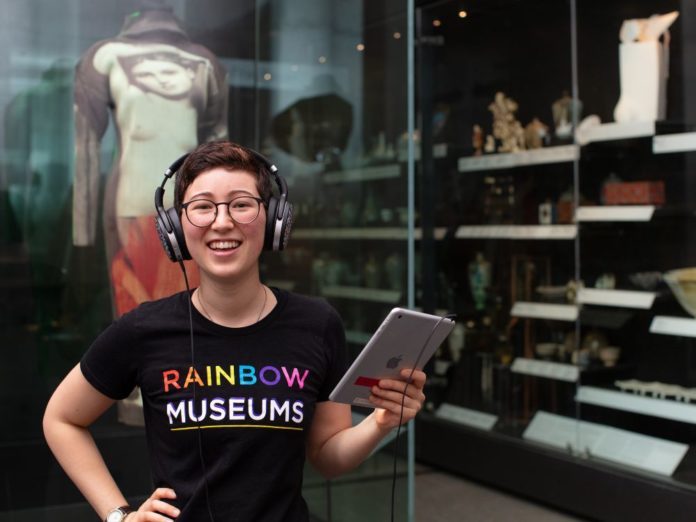 Kelly Geater discovers rainbow histories with Auckland Museum's new audio guide.
Delightful queer stories are lurking behind some artefacts in Auckland Museum's main collection, now discoverable via the Queerseum audio guide. Freely available, the tour allows anyone to use their phone to guide themselves around the galleries on a queer treasure hunt.
Each audio clip is narrated by a rainbow staff member, with clear instructions battling the clunky tech to lead us around their workplace. Several excellent moments relate to how the Museum itself is part of Auckland's queer history, such as how a gender-neutral uniform was introduced by a non-binary employee.
Falling into the common trap of equating sexuality to sex, several clips heavily focus on bodies and genitals, but a highlight of the tour is the way non-binary identities are explored throughout the natural world section. Here we learn about fish that are able to transition from female to male, an all-female species of stick insects that clone themselves, a snail able to reproduce by itself, and 'perfect flowers' that contain both female and male sex organs. These stories about non-binary and intersex artefacts are incredibly affirming, especially when so much of the vitriol surrounding our trans whānau comes from the claim that they 'aren't natural'.
Easily the most powerful clip centres on the military career of Peter Rule, who paid the ultimate price for New Zealand's anti-homosexual laws. Outed as gay and discharged from the airforce, the ceramics on display were sold after his suicide, with the funds used to create The Rule Foundation to help other queer Kiwis. It's here that I wish that this history wasn't hidden away in an audio guide – reading that story about the origins of the beautiful pottery would definitely make me pause when browsing.
Ultimately, elements of the Queerseum collection lack authenticity, but discovering the unique queer history hiding within this iconic building is an intriguing use of an hour.