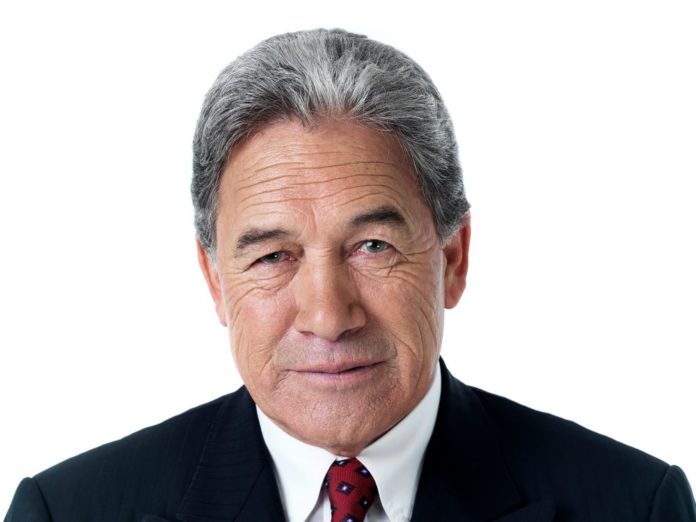 On Monday 21 September, our Deputy Prime Minister Winston Peters granted express his first-ever LGBT+ media interview. He talks to Oliver Hall about putting the Prime Minister in office, voting against Civil Union and Marriage Equality and denies accusations that he is blocking a ban on conversion therapy.
What do you think is the biggest public misconception about you?
They pretty soon forgot that under immense pressure we chose the last coalition government. We knew we'd get a lot of criticism for it, and we did, but in the end, it was about getting the right economic plan for the country…
Many of our readers may presume that you're homophobic due to your voting record on the likes of the Civil Union Bill and Marriage Equality. Are they wrong?
People should look at history and go back in the 80s when Fran Wilder had her bill before parliament, HIV was on the international scene and there was massive concern about what it all meant and here we are four decades on and we still haven't got the medical reaction we were hoping for back then. We thought we were facing a nightmare and four decades on there's still no vaccine. It's a pointer to COVID-19, we're all very hopeful for a vaccine but we may not get one. My point is – history changes people!
On the point of Civil Union and property law and the matrimonial aspect, many of my friends came to me and said 'these people want to talk to you,' and I had many meetings with, particularly men, in the gay community, who were concerned they were being hit retrospectively with property rights aspects that they never had never contemplated. My attitude has always been that the state has no business in the nation's bedrooms!
So eight years on, no regrets about your vote on Marriage Equality?
As I say, I can't, but I could give you the list of people and some of them are extraordinarily wealthy and they said I'm going to be caught in this circumstance and I didn't know about it. I thought well surely, they should be entitled to some notice that this would be a here and after circumstance, not retrospective. Those sorts of aspects were of grave concern but you know what the blunderbuss of politics is like sometimes. The truth is often grey, not black and white in the way they [the media] would like to shape it.
In interviews we're done recently, both Labour and the Greens have suggested the reason that banning Gay Conversion Therapy has not been put forward as a government bill is because New Zealand First is blocking it. Is that true? And if so, why?
You know what's appalling about that, I find it phenomenal is the deceit where people can't own up to their own lack of political influence and their own lack of political planning or political persuasion and have conveniently blamed New Zealand First. I find it disgraceful and dishonest to the extreme.
You can put this to them; when did you show New Zealand First your bill? The answer is, they never have!
This bill is number 52 on the autovector and hasn't been drawn yet. Now if it's 52 that suggests the creators of it, and the supporters of it, haven't even been able to convince members of their own party of the importance of it and that's the truth… and yet they are out there telling people, blame New Zealand First – it's a total falsity!
We recently spoke with Judith Collins who held her head in her hands when we suggested you could be kingmaker again in this election. She said she didn't believe you would want to do a coalition deal with National. Is she right?
"…She has already ruled us out and now circumstances are going rule her out and the ACT Party out, because if you don't know how to do calculations or use an abacus, you're not going to last long in politics. They don't seem to understand that when you make those arrogant statements about ruling people in or out, then you are just undermining the public's right to choose the content and size of parliament. That's the public's duty – not yours."
So if on October 17 the results determine that you are kingmaker and can choose from a Labour/Greens or National/ACT government. Are you open to considering both?
"Well, Oliver, we're the third longest-running political party in this country's history. I don't make the decision, the party and its MPs do. We have one position and it's that we don't do deals behind the public's back before the public vote…"
How would you sum up your three years now working with Jacinda Ardern?
"It's not been easy because we've been hit with a terrible crisis… We had to have a massive meeting with the Muslim communities to dissuade them that [the Christchurch Mosque Shootings] was a 'New Zealand Act' because that is what they were thinking. Then we had White Island. Then we had COVID-19. But if you look at the other side about what's been to the benefit of this country, there's been enormous infrastructural change has taken place. KiwiRail for example is back on track, it's the only smart way to go in a climate-changed world. And then there were all the others things we've done that came as a result of massive neglect of the previous government, everyone knew our district health boards were all in debt, we had sewage coming out of the walls at Middlemore hospital and we've turned that around. These things are always huge challenges but if you're not up to them, don't go into politics."
So considering those incredible obstacles to overcome. Do you think the Prime Minister has done a good job?
"From the point of view of COVID-19 and these sorts of responses, there is no doubt about that. But I just want to remind you, me and my party gave her the chance to be Prime Minister when the vast majority of New Zealanders would not have."
"I can still remember the build-up to the speech that night and the look on the Labour Party's face was one of hopeless despair. Although they had negotiated in earnestness, I don't think they thought it was possible."
Has working with the Green Party for three years had any change in your opinion on them and their politics?
"The Labour Party has the arrangement with them, so it's Labour who have had to deal with them."
So nothing has changed in the last three years to your opinion of them and their politics?
"What's changed is that looking at The Greens is that they're seriously fractured. They have quite significant internal fight and squabbles. I don't know how they handle that because it's very time consuming and debilitating. They can better tell you about that, but some of the material I have seen and things members have publicly said, I'm quite ensconced by the lack of unity…"
In 2008 NZ First failed to get 5% of the vote, before having a resurgence in 2011 and gaining nearly 7%. If you were to miss 5% this year would you stay on as leader and hope to make a resurgence in 2023?
"We're not going into this election to fail…"
What would you like express readers to have at the front of their minds when they enter the polling booths this election?
"…As Bill Clinton said in 1992, 'It's the Economy, Stupid!' And by the way, 'he won!"
Winston Peters, thank you for talking to us today. We really appreciate you taking the time.
"Thanks for the chance to get the Conversion Therapy truth out there. That is just one example of where we have been falsely maligned. People have spread rumour with malice about us and it isn't true. Frankly, they should be apologising to you and your readers."