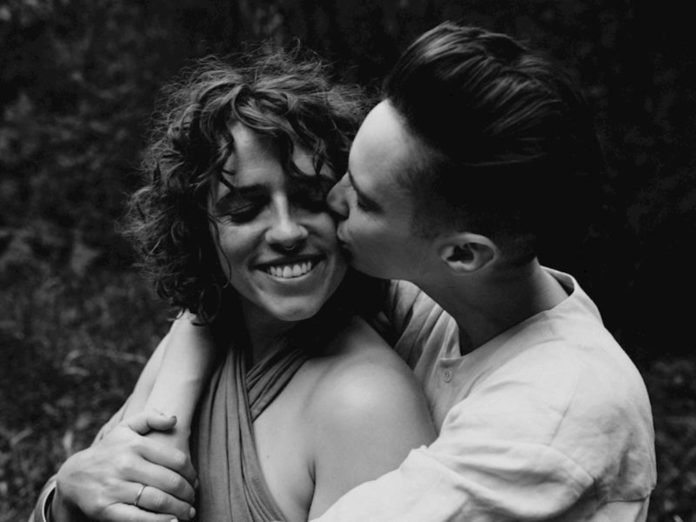 A local queer couple speak to express about the joy of becoming pregnant and the challenge of a cancer diagnosis.
Aged just 33, Ellie discovered a lump which would lead to a Grade 3 breast cancer. The following day, her partner, Jess found out they were pregnant with the couple's first child.
The couple were able to conceive through Sperm Positive, the new initiative run by the New Zealand AIDS Foundation, Body Positive, and Positive Women Inc. "We were delighted to find the right person, based in our city – and had been told we were low fertility, so were preparing for the long haul, trying first with home insemination," Jess tells express.
It was during the third cycle of trying when Ellie first found a lump in her breast. Jess says they didn't think it was too serious initially but wanted to get it checked out. "We thought at first would be something simple, like a cyst. We were in lockdown when we found it, so couldn't get an appointment to have it looked at for six weeks. We put it out of our minds, assuming it was benign. But Ellie's mum is a breast cancer survivor, so we knew it might be serious."
The following day, Jess discovered something unexpected of their own. "The day after she (Ellie) found the lump, I took a pregnancy test and discovered I was pregnant. We were shocked, in disbelief – we thought this moment might be a year or more away!"
As Jess started to settle into pregnancy, the couple received the worst news possible. Six weeks after Jess became pregnant, the couple was told not only that Ellie had cancer but that it was stage 3. They had not caught it early enough.
"In the breast scan the sonographer went very quiet – we knew it wasn't good. It confirmed a large malignant lump. The surgeon sat with us, took off his mask, and told us it was definitely cancer, we had not caught it early – and we should prepare for the worst because the younger a person is, the more aggressive it was likely to be."
Jess says they "broke" at the news.
"I wept. I couldn't believe this was what the next phase looked like, so soon after getting pregnant. I could not imagine how we would cope, on top of the insane year we had already had."
Ellie underwent a double mastectomy 10 days later and is now undergoing intensive chemotherapy, which is set to last up until a few weeks until Jess gives birth. "We can't know if they've caught all of it. We're optimistic, we firmly believe everything will be wonderful on the other side of this."
Jess and Ellie are both focusing on being optimistic about the outcome over the chemotherapy and the pregnancy. They also say they have been overwhelmed with the support of the community in helping them through the difficult time. "We're determined to make this process feel wonderful for us too, but some days that's really challenging. We've been so beautifully supported with the kindness of our community but preparing for a new human to arrive at the same time as caring for Ellie can feel overwhelming," Jess tells express.
"As I head into the third trimester, I know I can't do it all. I try to imagine a long, beautiful, queer life ahead with this incredibly special person I have the lovely task of caring for when she is vulnerable, and our little queer family we are building together. We're so grateful for anyone helping to imagine that future with us and supporting us to survive this challenging present moment."
A give a little page has been established to help the couple cover day to day costs as Ellie undergoes chemotherapy. You can donate here.