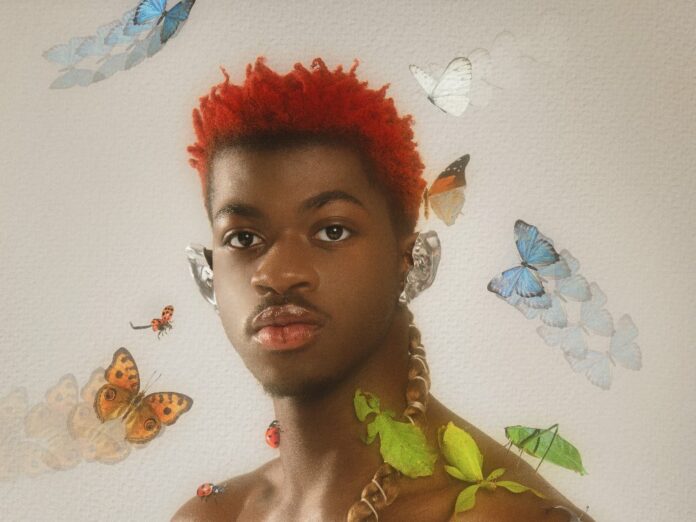 Against the odds, Lil Nas X has won a Country Music Award, come out while topping the charts, released some of the most sexually explicit gay content ever seen in a commercial music video, and topped the charts again. Young, gifted and black, here is the hero the queer community needs.
"There aren't many queer black stars in American culture, point-blank. The fact that Lil Nas has risen so far and so fast testifies not only to his skill but also to the erosion of the systems that for generations kept artists like him on the sidelines," wrote Time magazine, when they interviewed the surging Lil Nas X in 2019.
At the time many presumed he was destined to be a one-hit-wonder particularly when he came out as gay as his smash hit 'Old Town Road' sat at the top of the charts, yet two years on, the number one songs still keep coming for Lil Nas X.
Speaking to Time, Lil Nas admitted he never planned to come out publicly believing it would lose him fans, however just weeks after coming out to his family, he took his announcement public on Twitter and pointed the rainbow-coloured building on the cover of his EP.
"Thought I made it obvious," he wrote, later threatening that the next person to give him hate on social media, was, "getting kissed."
"It's rebellious on many, many levels for me," he told GQ the following year, explaining that he originally put limits on how gay he could allow himself to be. "That I never want to portray too much feminine energy… even as a gay artist that I have to be respectable… not allowed to be really sensual or anything… Like I'm gay but I'm not 'gay'… I have to make sure you feel like I can be straight-passing too."
In the same interview he reflected that this attitude came from his Christian upbringing, and said he initially believed "If I have these feelings, it's just a test. A temporary test. It's going to go away. God is just tempting me."
Born Montero Lamar Hill in 1999 Lil Nas grew up outside Atlanta in a religious household (his father was a gospel singer). He spent most of his teenage year glued to a screen running Nicki Minaj fan pages and making comedic memes.
His path to fame was an incredibly short one within four months of making music he went from being a college dropout sleeping on his sister's floor to topping the charts worldwide.
The song that would take him there was Old Town Road which fused two music genres often considered opposites: Hip-Hop and Country. Lil Nas wrote the song by himself and purchased the beat from an online music store for just $30. It became the longest-running number-one song on Billboard charts of all time. 19 weeks at the top kicked off previous tied champions Justin Beiber and Mariah Carey.
It would have topped the Country charts too, but was removed for not having enough 'country elements' to it – though many argued this was really because Lil Nas was gay and black, two things Country music was not ready for.
He would go on to become the first openly gay black artist to win a Country Music Association (CMA) award and would turn up to the 2020 Grammy's in a neon-pink BDSM Versace cowboy outfit. While COVID has diminished his number of public appearances, his flamboyant outfits are always the talk of the night. His stylist told GQ that they have intentionally tried to work with up-and-coming queer or black designers like Pyer Miss, Christina Cowan and Christopher John Rogers, stating: "When you align yourself with people like that, then you do magic. Good things happen."
And they did. With a growing sense of self-confidence Lil Nas released the title track from his soon to drop debut album, "Montero (Call My By Your Name)." A song about dating during quarantine and his first to have sexually explicitly lyrics: "I wanna feel on your ass in Hawaii/I want that jet lag from fuckin' and flyin'/Shoot a child in your mouth while I'm ridin'" he raps.
"At first I was really afraid of alienating any of my straight fans," he told Entertainment Weekly, "but then it was kind of like if they feel offended, they were never really here for me."
This coming-out party was completed with an eye-catching video that sees Lil Nas ride a stripper pole down to Hell to give a seriously-swolle-Satan a lap-dance, before killing him and take his throne.
Some of the parents whose children had danced to Old Town Road on TikTok were not best pleased! "At first I felt a sense of responsibility," he told GQ, "but now I kind of just don't care. It's not my job. Of course, I want to spread good ideas, but I'm not nobody's parent. At the end of the day, I'm just doing me, and hoping everybody else is following the lead, and do themselves."
Having spent his 21st birthday at number one with Old Town Road, Montero ensured he was back at the top of the charts for his 22nd.
Ironically his increasing success and fame thanks to hits like Montero, make it harder to have the experiences that inspired Montero – ie: meeting new guys and having a love life.
"I've honestly gotten to this point where I'm just like, okay, I hope this person actually likes me for me [and] isn't trying to use me as a stepping stone," he told Entertainment Weekly. "I've just got to a point where it's like well, even if they are [using me], then that's a lesson learned. I can't just stop meeting people because of this fear."
With the release of his first album on the horizon, Lil Nas' songs are still causing a ruckus. His latest single Industry Baby (produced by one of his musical heroes Kanye West) includes a music video depicting Lil Nas X going to prison where he and the other inmates perform complex choreography in showers – completely naked!
While it is easy to label this as another marketing stunt, the impact of Lil Nas' videos expose a lot of societal truths. Just days after the video's release fellow rapper DaBaby announced on stage at a festival: "Fellas, if you ain't sucking dick in the parking lot, put your cellphone light up."
With his comments going viral, Hip-Hop personality Amber Rose was quick to point out, "Y'all are so mad that Lil Nas X is fucking winning! To be this homophobic feels like they are battling something internally. This is not equality this is hatred. Period."
While DaBaby has not had a number one hit in over a year and looks set to have ended his commercial success with his onstage rant, Lil Nas X has taken, 'Industry Baby' right to top – sending an important message to both homophobes and queer youth the world over.
As Lil Nas X told Time magazine, "not to sound self-centred, but it feels like I'm chosen, in a way, to do this stuff."