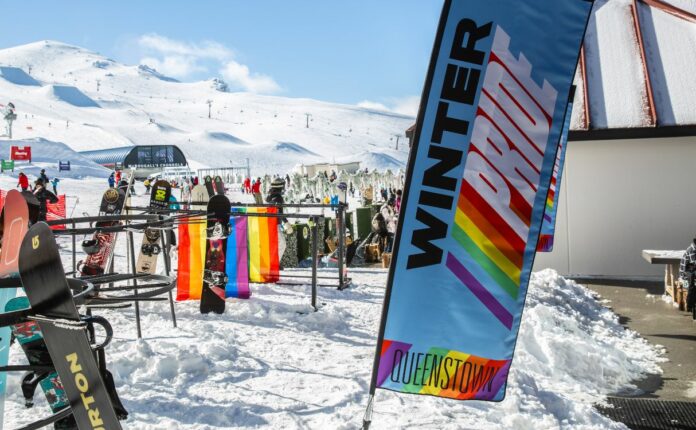 Winter Pride organiser says his 'patron's access' model had detailed terms and conditions that made it 'clear' tickets were not refundable, even if the festival was cancelled.
Winter Pride's Director is defending his policy to refund tickets only partially for this year's cancelled festival in the wake of confusion amongst ticket holders, some of whom feel short-changed.
Originally scheduled to take place last week in Queenstown, Winter Pride 2021 was cancelled following the most recent COVID-19 outbreak across New Zealand which plunged the country into a new round of restrictions.
Some disgruntled ticket holders contacted express, unhappy that they are not receiving a full refund for their purchase.
These ticket holders say they understand the need for the cancellation, but don't understand why tickets are not being refunded at their full purchase price.
Winter Pride have instead issued refunds of up to 40% for Australian ticket holders and 30% for Kiwis, who have the additional option of exchanging their tickets for up and coming events in Auckland.
Festival Director Martin King tells express that Winter Pride ran a "patron's access" model, which also meant that in the event of cancellation, tickets would not be refunded.
"People paid to enable the festival, and the terms and conditions on registration and purchase were non-refundable and non-transferrable."
King says he was upfront with the model with those who purchased tickets including eight boxes of terms and conditions that ticket purchasers had to individually click to confirm.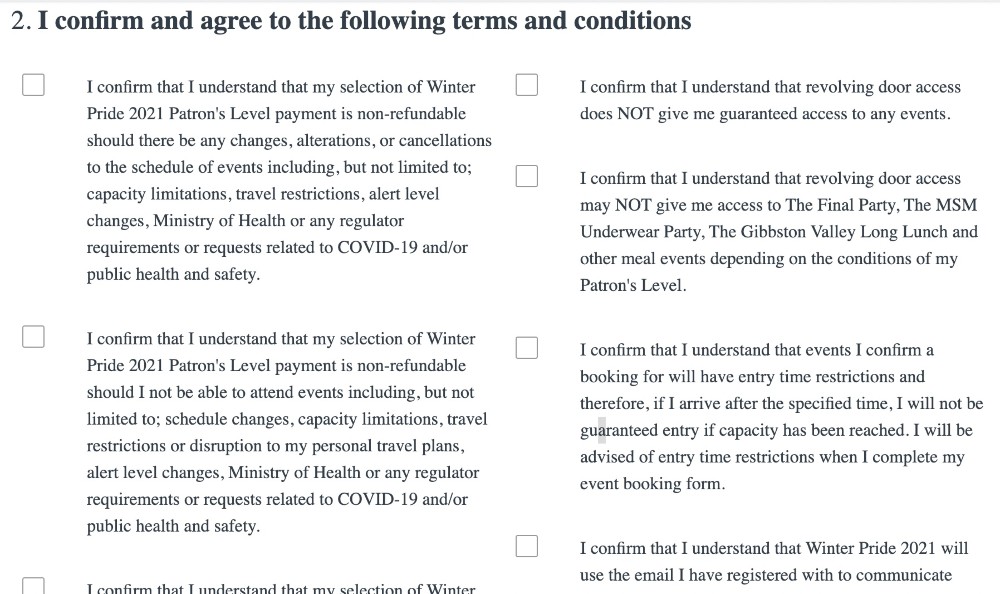 "It was always clear that the festival could be changed or cancelled, and, in this instance, there would be zero refunds," King said.
For those questioning what they were getting in return for the purchase of a ticket, King says the money paid for tickets was put towards putting on the festival in its entirety and not only for the events the tickets were purchased for.
"Patrons enable the festival, and by far outweigh any funding or sponsorship. Since covid-19 our sponsorship dropped 90% heading into this year's festival. People had the choice to support the festival in these uncertain times, or not to. We are a social enterprise committed to Pride, and we have been clear and transparent about the need for financial support to make the festival happen for our Rainbow Communities."
"This was always a shared risk," King tells express. Adding that he even created a video for ticket purchasers to help explain what they were signing up to.
One complainant told express that the model was not one they had seen before.
"I have never encountered a festival or event that expects its ticket buyers to become sponsors and incur risk on behalf of the organisers. This is very unusual," they stated in an email.
Despite that, King says he is confident of the legality of his unconventional approach. "We have to provide a fair and accurate representation of what we are offering – we have done that all the way through."
However, when contacted by express, the Commerce Commission said they were assessing a complaint made in relation to the model.
A spokesperson for the commission told express, "we have received one complaint related to this event that we are assessing against our enforcement criteria. We assess every complaint we receive, but we are unable to investigate all of them. As we have not decided whether we will investigate this complaint, we are unable to comment further at this stage."
In light of frustration, King is also offering partial refunds for ticket holders on "compassionate" grounds.
"What we [have] offered by way of partial refunds was a compassionate consideration to offer as much as we could – over and above the terms and conditions, but without putting the festival into financial jeopardy."
Those refunds are at 30% of the original ticket price for New Zealanders who have purchased them while Australians were earlier offered 40% for their tickets.
King defends the decision to offer more of a refund to Australian ticket holders saying the costs associated with their attendance is higher and they were impacted earlier with the trans-Tasman bubble closing before New Zealand's COVID outbreak in August.
"We cancelled approximately 650 Australian Patrons which equated to 4000 (four thousand including our free events) tickets across the festival. Kiwis picked up approximately only 100 of these patron's access levels in the 3 weeks post the bubble closing."
"Kiwis stay for a much shorter amount of time, and do not attend as many events, so this equates to about 300 additional add on tickets out of the 4000 lost being picked up by kiwis. The gap was never going to be able to be filled. We had to cancel three key events after the bubble closed due to lower numbers and merge events, as we were never able to recover those ticket sales (and associated costs with cancelling these)."
King adds that the festival will continue to support our community. "We have raised over $2500 for our rainbow charities and have two more campaigns this week to raise more, plus (we are) doing some more online events to support LGBTQ artists who have lost all their work which is devastating for them."
Those wishing to seek a refund can do so by contacting Martin King at martin@winterpride.co.nz.