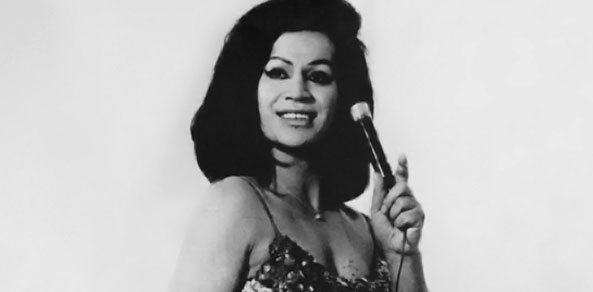 The documentary "Carmen: I am here, I am me" produced by Gareth Watkins won the Best Music Feature award at the New Zealand Radio Awards held in Auckland Thursday 7 May.
"What better way to celebrate New Zealand Music Month than with an award for a documentary on gay New Zealand composer Jack Body and an icon of New Zealand and Australian culture – Carmen – a fighter for social justice and equality" says Watkins.
Carmen is a ground-breaking music feature produced for Radio New Zealand Concert that documents the birth of a significant New Zealand artwork, while charting a course through society's changing attitudes towards prostitution, gender variance and homosexuality.
Carmen – formerly Trevor Rupe – was an exotic dancer and business woman who ran a number of entertainment establishments in Wellington in the 1970s. At that time, New Zealand society was far more morally conservative than it is nowadays; with prostitution, homosexuality and abortion all being illegal.
Despite this, Carmen challenged the overt discrimination and prejudice against members of the gay and transgender communities.  She offered a haven for many marginalised people as well as job opportunities in her various entertainment establishments – particularly at the Balcony strip club and Carmen's International Coffee Lounge.
One of her employees was Dana de Milo.  De Milo is heard throughout the documentary candidly giving a first-hand account of the times – the atmosphere, the clients and the brutality dished out by some members of the police force.
De Milo's stories are interwoven with archival recordings of Carmen and a contemporary interview with Jack Body who talks about his work, introduces us into the world of Carmen, and examines his own life.
This is one of the first times that Body talks openly about his homosexuality:
"We all have naughty secrets which we don't talk about; and we also have fears about how we behave; about not speaking the truth for whatever reason …  and this is something Carmen teaches us that we should overcome.  This is somebody who had no secrets about who they were or what they thought. It's just to face up to who you are."
This feature not only explores a unique compositional journey, but reveals the fortitude of Carmen and de Milo, and Body's fearlessness in showing the audience his vulnerabilities and ultimately his humanity.
"Jack, Carmen and Dana are all heroes of mine" says Watkins.  "To me this award is a big sparkling, dazzling love-letter back to them, thanking them for their creativity and courage and character."
Article | gayexpress