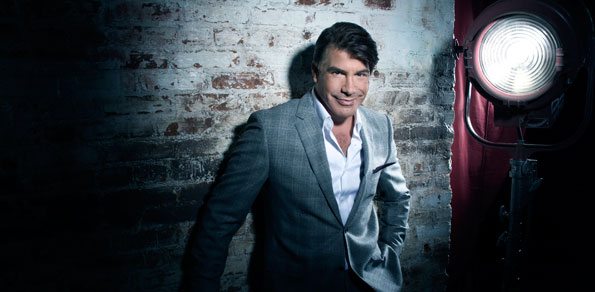 Oliver Hall talks to Bryan Batt, the openly gay star of Mad Men and 12 Years of Slave about bringing his talents to the Auckland stage.
At 51, Hollywood actor Bryan Batt is more in demand than ever, having effortlessly gone from staring in one of TV's hottest shows (Mad Men) to being cast in this year's Best Picture Oscar winner 12 Years of Slave. The former Broadway stalwart, broke into movies when he starred in controversial AIDS comedy Jeffrey, cast opposite Patrick Stewart as a gay couple. Outside of acting Bryan co-owns a 'home and gift' store in New Orleans with his partner of 24 years Tom Cianfichi and in 2010 released a memoir, She Ain't Heavy, She's My Mother, months before his 'mom' passed away from a 31 year battle with cancer.
"I'm totally different from Sal," Batt says of his Mad Men character. "He played his cards very close to his chest. I'm an open book," he tells us, confirming people attending his Auckland show can expect him to, "spill all."
Batt's cabaret show, Batt On A Hot Tin Roof, was originally conceived as a one night only fundraiser for victims of Hurricane Katrina, but proved so popular it extended and is now being brought overseas. "The only types of music you won't hear are opera or rap," he says of the show, "my favourite part is performing the songs that people won't have heard before, which are riotously funny!" They will be joined by candid stories of Batt's life and career. "A little naughty, never hurt nobody," he assures.
Candour certainly seems to a strength of Batt's. In our half hour chat he talks about working on Mad Men when pictures of lead actor Jon Hamm's crotch became an internet sensation. "He was kind-of insulted, when all that stuff came out." He says of Hamm, "come to think of it so was I. No one's taken pictures of my crotch!" Before assuring express, that he never checked out Hamm's package. "I didn't really look down. I had to be a professional!"
Talking of professional, Batt confides that the worst person he has ever worked with is legendary battle-axe Elaine Stritch, describing her as 'tough' and 'in a bad space!' His favourite co-star has been Susan Sarandon because, "she was the coolest thing in the world." And if he could work with anyone… he gives the same answer that we all would – Meryl Steep! "At the SAG awards one year, a director bumped into me and I was propelled forward into Meryl. She stares into my eyes and says, ' I love you on Mad Men, my husband and I watch it every Sunday night.' I just thought – I can die now!"
 Article | Oliver Hall 
Bryan Batt – Batt on a Hot Tin Roof plays at 7.30pm on Sunday 22 June at the Concert Chamber at Auckland Town Hall. Table seating is $35 or $70 with a meet and greet. Tickets from www.ticketmaster.co.nz.