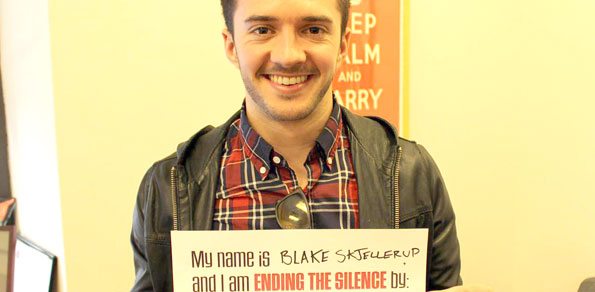 Blakes onboard! You can be too, find out how you can help combat homophobic, biphobic and transphobic bullying in schools around New Zealand.
Today marks the launch of the nationwide campaign aimed at drawing attention to homophobic, biphobic and transphobic bullying in schools around New Zealand.
QSA Network Aotearoa brings The Day of Silence to schools throughout New Zealand this coming june.
The Day of Silence was founded in 1996 at the University of Virginia and now takes place in over 70 countries worldwide – with it's New Zealand history beginning in 2007 at Nayland College in Nelson. Students pledge to be silent for the day to reflect the silence that many queer and trans* people go through about their identity as a direct result of bullying and discrimination.
Tabby Besley, Chairperson of QSA Network Aotearoa says "drawing attention to the silencing effect that bullying can have on young people who have a diverse sexual orientation or gender identity" Besley goes on to say  "The idea behind the campaign is to bring attention to the issue so there can then be follow up actions to break the silence – like starting up a queer straight alliance group, or improving sexuality education."
How can you show support?
Take a "Selfie"  Like Blake! Selfie For Silence is a great way you can show your support across many of your social media platforms. Simply Download and Print a template. Fill in how you will be ending the silence, take a selfie and upload it using #dayofsilence then share it with everyone, you can also e-mail it to info@dayofsilence.org.nz to be added to the gallery! 
Raise awareness – Simply sharing this story on your social media helps spread the word.
Share the website – Share The Day of Silence website
What will you do to break the silence?".
 Article | gayepxress
The Day of Silence will run on Friday June 27th and young people and schools can register or find out more at www.dayofsilence.org.nz