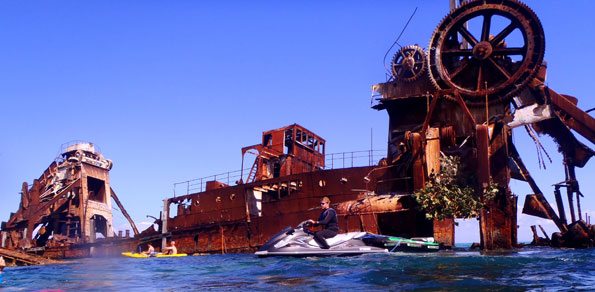 A cyclone sets Andrew Rumbles of a different course.
The bags are all packed.  Snorkels, hats, sunscreen.  Great Barrier Reef on the cruise ship, Pacific Dawn, here we come!
What's this? An email from P&O? " Due to Cyclone Ita your cruise is cancelled and you will now be sailing with us to New South Wales". We looked at each other and agreed that a holiday is a holiday, what could we do anyway, so off to the airport we went.
Our arrival in the normally blue, sunny city of Brisbane was a bit blowy and cloudy. However the ship waited for us at Portside on the Brisbane River and once we completed the formalities we were on board and exploring the suite we had splurged on.  Lunch was being served and there were 13 stories of ship to explore. After the mandatory safety drill, the ship turned and out we sailed under the Gateway Bridge.
What do we like about cruises? Food and accommodation and travel are all prepaid. You only have to unpack once. There is a laundry service. You meet lots of fun people. On this cruise ship of 1800 we met four other gay guys and they were just the ones we bumped into. They were in our age group so there may well have been younger boys on board. We also met several straight couples whose company was interesting and entertaining. Coincidentally on this our second cruise with P&O we also had the same cabin steward as last time and also knew two of the restaurant staff from two years ago. It was like returning to a fave destination and being warmly recognised.  Food allergies can make travel difficult for us and this ship certainly worked to take away any worries by making meals specially for my honey's allergies.  There is lots to do or not do on board and you can work off many of those calories by going to the boot camp at the gym or at the very least waking up and walking down all the stairs.
The first morning dawned with a horrid swell. My man was fine. I wasn't.  Seasickness affects many of us. My chemist had sold me some anti-nausea patches and once I applied one and had a snooze I felt quite healthy again. On arrival into Sydney we went shopping! We also toured three historic pubs at the Rocks and visited the Contemporary Art Gallery. We had docked in Circular Quay itself opposite the Opera House and just around from the Bridge. We even found our way back to the Tapas bar we had discovered in January for a yummy lunch.  After two days we sailed as the sun set and after a day's sailing we were north of Sydney in Newcastle. This was an unknown destination for us. The city has some beautiful beaches and lots of history in coal and steel. The historic fort was very interesting as it actually engaged with the Japanese during WWII. The Fort Scratchley volunteers did us the honour of a 3 gun salute as we sailed that evening.
A day or so later we anchored off Moreton Island just north of Brisbane. This stop was a delightful piece of unknown territory, all on a large island of sand. They have a breakwater created from 15 sunken boat wrecks, where we went  for a snorkelling tour.  We finally got to get out the goggles and sunscreen. White sand and relaxation, were at last part of this unexpected holiday.
The next morning we awoke docked back in Brisbane having relaxed and enjoyed our seven days away.  The unexpected highlight was definitely Moreton Island about which we had no prior knowledge, but had delighted us with its novelty.
Article | Andrew Rumbles