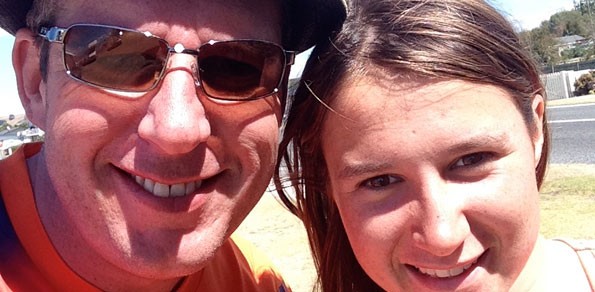 In follow up to his 'gay adoption' article in May 2014 issue of express, Roger Fleming shares his latest paternal reality. 
I sat there innocently scrolling through various Facebook posts about cats when I came across a post from my daughter that she had made earlier in the day.  Facebook is as close as it gets to stalking my kids.
I was shocked to read that my daughter had broken up with her boyfriend. I tried to ignore the fact that my view of being the perfect, understanding, liberal, talkative and all knowing dad had just been crushed by my one small post, which incidentally had already been "Liked" by 87 others, and which left me feeling somewhat  dejected to be so far down the list.
Once I had dealt with my own hurt feelings, I came back to reality and realized that I needed to talk to her and see how she is coping.  It was Monday and she had only just arrived for the week.   I knew from past experience that rushing in to "Fix" the problem is not always the best plan of attack.  Should I wait till she talks to me?  How long should I be patient?  Perhaps I should wait until after Boarder Control.  Perhaps she won't tell me at all… or god forbid, her mother knows all about it and I don't!  Bugger now that would annoy me.
Eventually I couldn't take it no longer. I wondered into her bedroom and discovered her sitting nonchalantly doing home work.  What unfolded proved to be one of life's biggest ever bitch slaps!
And the conversation went something like this, "Hi Honey," I said, "Hi Dad". She replied, barely indicating a fraction of grief.   "So I see you're not with Sam anymore, are you ok?"  Yep I'm good she said, "I want to focus on my school work and football."
"Well honey, I'm here if you want to talk", all the while attempting to sound very understanding, and doing the best sympathetic puppy dog look I could muster.
She stopped what she was doing, put down her pen and looked at me. Those big brown eyes melting my heart as they always do.  And then she delivered her broadside.
"To be honest dad, you're the wrong person to be giving me relationship advice."
WHACK! And with that I had officially been bitch-slapped by my daughter. That one sentence brought me well and truly back to reality.  My super hero status officially dead.
Destroyed by my own flesh and blood.  With that sentence the sharp reality of my own daughter's thoughts and independence came flooding home.  All my attempts and thoughts on being the perfect dad… crushed.  She had formed her own opinion on something in my life, and by expressing it, honestly and openly, it became clear to me that her shift to adulthood was closer than I would care to imagine.
It was the beginning of change, of how I view her, and how she viewed me.  Our relationship was slowly changing. It was only now that I was truly aware of it.
Article | Roger Fleming