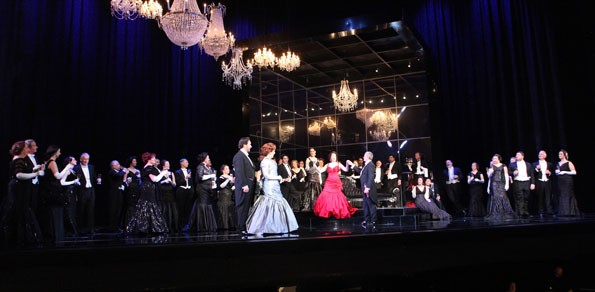 NZ Opera's production of La Traviata opened in Auckland on 19 June to enthusiastic acclaim from a full house at the Aotea Centre.
Verdi's tale of a fragile society girl in Paris who reluctantly accepts love only to be forced to give him up, is possibly the most performed opera in the world and a real classic.
Co-produced with The State Opera of South Australia and Opera Queensland the sets were chandelier sumptuous and the singing magnificent. The three leads, Violetta, sung by Lorina Gore, Alfredo, sung by Sam Sakker and Alfredo's father Giorgio, sung by David Stephenson were particularly powerful and impressive, all helped by the new interior of the ASB theatre and its vastly improved acoustics.
This is opera at its best – and if you have never been to opera before this is the one to go to. A world standard of production (indeed it surpasses a production staged recently in Barcelona), great sets, familiar music, magnificent voices…and a tragic love story to get everyone's tears rolling.  NZ Opera's new General Director Stuart Maunder and his team are to be congratulated.
La Traviata continues until 15 July at the St James theatre in Wellington after five performances in Auckland.
 Article | Richard Todd