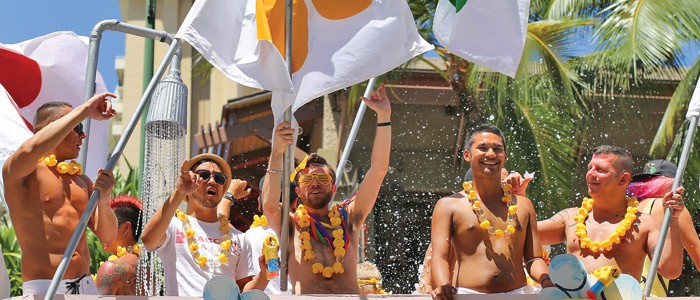 Thanks to the support of Smirnoff, Family and Pop Bars, express magazine and website and Hawaiian Airlines eleven gay boys ventured off to participate in Honolulu Pride held on 7 June.  Patric Seng and Richard Todd tell the story.
Auckland's Pop Bar was buzzing on Friday nights in April and May as the winners of the Hawaii competition were announced. Each winner received two air tickets and a six night hotel stay at Vive Hotel Waikiki. Winners jetted off on Hawaiian Airlines to join the fun of Honolulu Pride on Thursday night 5 June – to arrive the same day, late morning!
First impression and forever with you in Waikiki is how pleasantly dated everything is. For lovers of modernist architecture this is heaven. And it is a testament to the integrity of the original build quality that these 50-year-old buildings are still near perfect. Many, such as our hotel, had undergone recent interior refurbishment. Waikiki Beach is stunning and clean. A beautiful blue sea and crowded with all sorts, from cute surfers to the Japanese with their perfectly defined bodies. In fact all of Waikiki is well tendered and tidy. People walk slowly and the traffic is quiet – even the homeless are unobtrusive.
Food-wise it is a real mix. American chain restaurants can be bad, but do your homework (and open your wallet) and you can find top-class restaurants such as Taormina – or The Terrace at Moana. Price-wise, the good news is clothing and drinks. Thanks to the Japanese pouring into Hawaii the top fashion labels (A/X for instance) are all here and at prices Americans can afford. Similarly cocktails and spirits are all around US$5 and pack a punch that will soon catch up with you!
Of course the big event was the Pride Parade and Party on Saturday 7 June. The parade started in Ala Moana at 10am and wound its way down Kalakaua Ave to Kapiolani Park where everyone got together and continued celebrating 'Big Gay Out' style. The local police headed the parade on motorbikes followed by the Royal Hawaiian Band, Lady Gaga, roller derby girls and much more. Curious onlookers – mostly tourists – watched as it rolled by. A separate smaller function was held at Ala Moana after the parade. Our Mika and entourage did a show and just about everyone headed off to nearby Hula Bar to party from mid afternoon! 
Hawaiian gays and lesbians are conservative dressers. So Zakk in our group, teetering along in high heels and stockings, was about the only person making it "outside the square". Other oddities included the prayer at the opening of the Pride festivities at Fusion nightclub. Like the other gay venues (Hula Bar and LoJax), Fusion is a real time warp. Abba? No wonder there is a lack of younger patrons, although this may be also due the drinking age being 21.
Hawaii offers great weather, friendliness, beaches and fun – if dated – venues.
Perhaps the only thing missing is the café scene. Waikiki was built before this became popular. If time permits get out of Waikiki… rent a car or go on the fixed fare bus all round the island. All too soon our time was up and we headed home to wet, cold Auckland!
Article | Patric Seng and Richard Todd 
Photos | Patric Seng and Zakk d'Larté