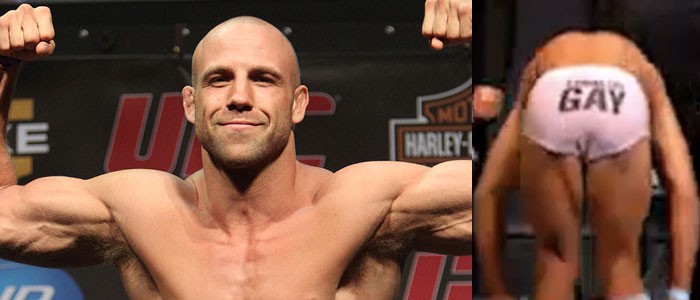 UFC (Ultimate Fighting Championship) – light-heavy weight fighter strips down showing his support for the GLBT community.
After a two year sabbatical 32 year old UFC fighter Kyle Kingsbury grabs headlines at his return debut weigh-in with a surprise in his pants.
Recently engaged to his partner Natasha, hunky Kingsbury stripped down for his weigh-in to reveal a pink pair of underwear with the words "legalize Gay" across his rock hard gluts. Kingsbury reportedly lost the fight on the night.
Kingsbury's message of solidarity and acceptance seemingly went unnoticed by commentators on the night but it has made headlines around the world.
UFC is an organisation which is based in the USA that promotes Mixed Martial Arts. Its coined as not only a sport but theatre and entertainment all mixed into one. Kingsbury started MMA when he was 24 after a failing college football career. He is the first known MMA or UFC fighter to publicly come out in support of the gay community.
Head here to check out the weigh in video
 Article | Tux hika