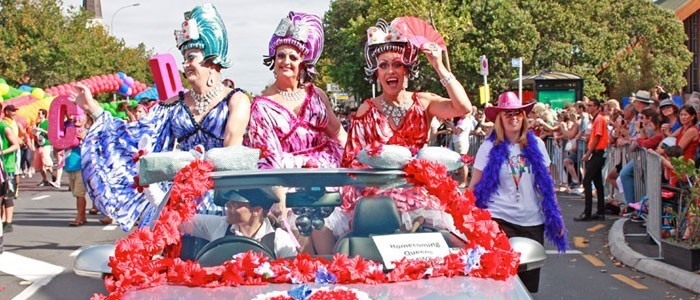 APFI (Auckland Pride Festival Inc) is pleased to announce the appointment of its new board members.
Auckland Pride Festival Incorporated congratulates and welcomes its new Board members onto the team.  "We are thrilled to have attracted applicants of such a high professional calibre and proven community experience," says Megan Cunningham-Adams, current Board Co-Chair.  "There is no doubt that their input will help raise the bar for 2015!"  Meet the new members below.
Phylesha Brown-Acton
 Born of Niuean decent and raised in Auckland Central, Phylesha Brown-Acton is a "proud Aucklander and promoter of this great city" and a respected advocate for Pasefika LGBTQI communities.
Heather Carnegie,
Heather Carnegie is a previous executive member of GABA (Gay Auckland Business Association), overseeing events including the GABA Glamstand at this year's Auckland Pride Parade.  Carnegie has strong relationships throughout New Zealand's Rainbow Community, having run LGBT businesses such as Footsteps Nightclub in Auckland and Glamz! Cabaret in Hamilton.  She is also the proud winner of a gold medal in sparring and a bronze medal in self-defence at the 2002 Sydney Gay Games.
Daniel Mussett
Daniel Musset is active in the institutional investment community and currently heads up the New Zealand consulting division of a global investment services firm.  He consults to the boards of large investment funds nationwide and has published on both strategic investment issues and governance.  Daniel has had wide-ranging involvement in the not-for-profit sector since he was a teenager.  He brings management experience, strategic thinking, an emphasis on inclusion and diversity, and a sense of fun to the Pride Board.
Paul Patton.
Paul Patton is an experienced strategic PR and brand professional, having worked for 25 years as a consultant and in-house communications director in the UK and New Zealand.  He was recognised for his communication work for Manchester Pride by being awarded an Institute of Public Relations Silver Award for the Best Charity or Not For Profit Campaign.  Paul is looking to engage his communications skills and experience to help make Pride 2015 an even better experience for the whole community.
Auckland Pride Festival Incorporated wishes to thank outgoing Board members David Coltman, Andy Jalfon and Gurv Singh.  Linda Heavey will also step down as Treasurer to take up a non-voting advisory role, representing the Board as part of the Auckland Pride Festival management team.
Article | gayexpress