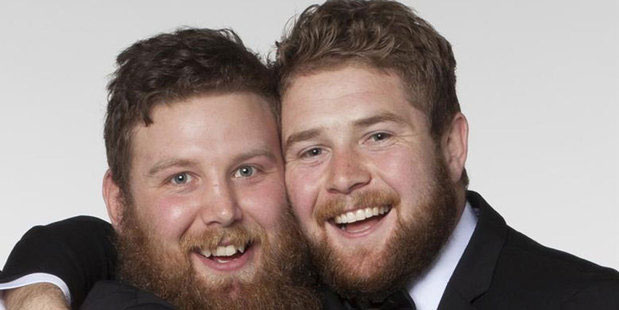 The Edge's Breakfast with Jay-Jay, Mike & Dom' recent publicity stunt where two straight mates must marry to win tickets to the Rugby World Cup 2015 was held this morning at Eden Park.
Travis McIntosh and Matt McCormick tied the knot to secure them the top prize of The Edge Breakfast show' "I Love you man" Competition. Entrants were encouraged to enter but only if they were willing to marry their best friend.
60 or so friends and family braved the wet and windy Auckland weather this morning for the two boys from Dunedin' staged wedding. The ceremony was held at Eden Park & included a Darth Vader look alike as ring bearer and a naked male streaker. Both boys walked the aisle with rugby balls in hand and groomsmen in tow as they took to the stage to say their vows.
The pair standing under a black and white heart shaped balloon arch did rock paper scissors to see who said the vows first.
McIntosh won, placing a ring McCormick's wedding ring finger declaring to him and the audience "Today I take you as my husband". The 23 year old added "I promise to be your partner in all things" but that was mostly because he "suffers from FOMO (fear of missing out)".
McCormick's vows were rugby centric with the 24 year old making references to the pairs favourite rugby team the All Blacks.
TV personality James McOnie, who Mc'd the ceremony, jokingly said that the event had offended people and said "frankly he's not surprised" adding "its a bit weird". The jokes continued, referencing the couples marriage as a "swinger' like" relationship to one groom wanting to slit his wrists at the thought of sharing beds.
The pair fumbled around the podium with arms out stretched, kissed on the lips then went in for a hug back pat.
McOnie then introduced them as "lawfully wedded Husbands". The pair had signed their marriage certificates earlier on.
Jay Jay Mike and Dom, hosts of The Edge Breakfast show, have caused a fiery response across the internet with listeners on their Facebook and Twitter pages venting both support and disgust for the competition.
 Article | Tux Hika