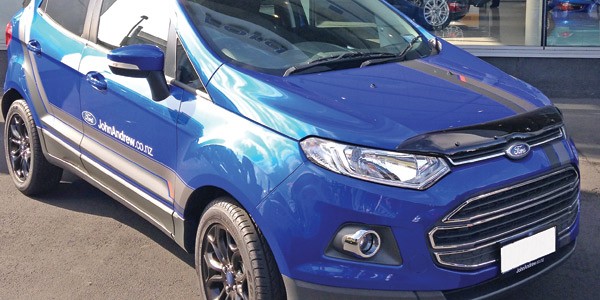 In a new motoring feature, leading manufacturers and dealers put forward their contenders for this challenge!
Ford's All-new Eco-Sport is the latest breed of crossover vehicle. We where able to review the 'Black Edition', which has a wide array of unique features. This striking vehicle is a clever mix between Fords ever popular 'Focus' and an SUV giving a unique look and driving experience. Incorporating an astonishingly fuel efficient engine and a spacious yet sporty design with all the practicality that you would see in a larger more cumbersome SUV.
The Eco-Sport is the ideal family vehicle for urban and city use. The large boot easily has enough space for all your needs including copious amounts of shopping bags for that much needed retail therapy, whilst at the same time ensuring there is ample leg-room for your friend to enjoy the ride.
With 200mm of ground clearance the Eco-Sport is designed for ultra-comfort on New Zealand roads. This ensures a seamless drive over those troublesome potholes, ditches and whatever else gets in your way. This is a comfortable ride!
The Eco-Sport's aesthetically pleasing interior ,while not luxurious, is remarkably smart looking and intelligent, with the ability to sync to your smart phone and with the wonders of voice command the Eco-Sport is a no brainer for all city slickers.
Vehicle supplied by John Andrew Ford, Auckland.
Article | Matt Fistonich.