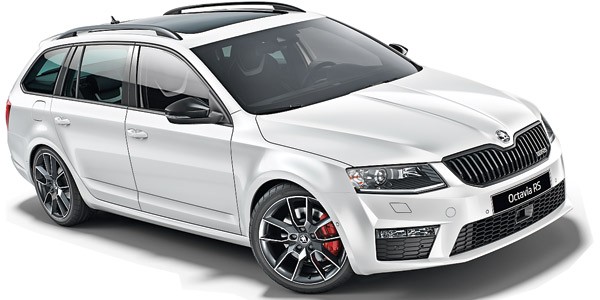 In a new motoring feature, leading manufacturers and dealers put forward their contenders for this challenge!
The Skoda Octavia RS is turbocharged with a sports exhaust and performance mode selection via the VRS button. This isn't just your average run of the mill station wagon. It has a high performance 2.0L TSI 162KW petrol engine partnered with a 6 speed DSG (direct-shift gearbox), which is a fully manual gearbox incorporating a computer controlled clutch and gear selection mechanism. As I'm handed the keys and told I could have it for the weekend, I feel a little giddy. 
Aesthetically it's a very stylish car. 18 inch alloys, clean definitive lines and privacy glass help it stand out in a very positive way. Continuing through to the interior, open the door and you are welcomed with sporty bucket seats, and a fantastic dash layout with a white backlight. The central touch screen unit operates the electronics of the vehicle; syncing my phone to the Bluetooth is a piece of cake.
It's a very manoeuvrable car, that's easy to park, but it's distance sensors whilst useful, it lack front and rear cameras, which could be an add on option.
Heading up north, I'm desperate to try the 'sports mode'. At the press of a button the car is reborn. The exhaust becomes throaty and the engine sounds completely different. The unsuspecting power I am experiencing is attractive and addictive. I want to keep accelerating at every opportunity! 
 I arrive at my destination with a smile on my face and people glancing at the car intrigued. "Is that a Skoda?" A gentleman asks me. I'm pleased to say it is. This car will challenge any car in its class. A high-end vehicle without the high price tag. Skoda is the new come-back kid!
Vehicle supplied by Giltrap Skoda, Auckland.
Article | Robert Adams.