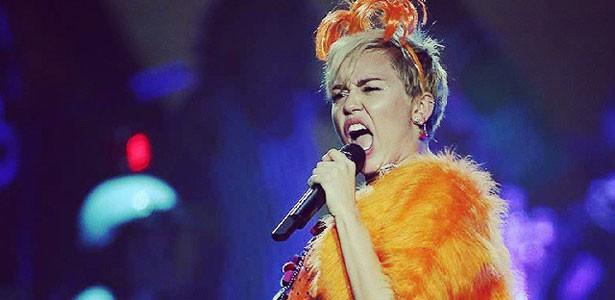 I'm still trying to make sense of Miley Cyrus' "Bangerz Tour" from Wednesday night. On one hand, it was a celebration of freedom and individuality – liberating and encouraging young girls to own their sexuality, as opposed to the traditional ideology of being submissive to males. On the other – dildos, teddy bears, ecstasy, cannabis, acid trips and seahorses? It was an hour and a half of intense visual stimulation and my ears are still ringing.

I have to start with how it looked when you walked into Vector Arena. I knew we were in for a fun night because as we entered, the place had been decked out with colourful balloons. Like seriously, balloons everywhere. Stringed up from the rafters, hanging from the ceiling, hovering over the seats, balloons.
The question on everyone's lips was whether or not it would it be suitable for children.
As it turns out, it was barely suitable for adults.

Opening DJ's "The Faders", were okay but forgettable. Top 40 hits carelessly blended together, they might as well have just played an iTunes playlist. Let's skip them.

To an absolutely-packed Vector Arena, Miley lived up to her newly-found bad girl reputation, and then some. By the end of the first song alone, a collab with Britney Spears titled "SMS (Bangerz)", we had been treated to tongue-flashing, crotch-grabbing, and a whole lotta' twerking. Accompanied by her crew of dancers, the ex-Disney princess danced with a bunch of fluffy larger-than-life animals before calling the crowd a "bunch of f***ing sluts" and slamming her hand repeatedly into her crotch. Insane strobe lights and LSD graphics illuminated one high-cut leotard after the other. I'm not going to lie, I was hoping she'd have at least one little wardrobe malfunction, but moving on.

I'd watched sections of the show online before-hand, and was a little disappointed that despite promises that New Zealand was definitely going to get the full-scale tour set, her iconic props were no-where to be seen. Instead, we got a seemingly economical version that she was apparently not happy with either. Cyrus quickly informed the crowd that she was "pissed off " that her giant tongue slide, aggressively phallic hotdog and other elaborate props had not made it across the Tasman. However, she made up for the lack of onstage furniture with her undeniable talent – her vocals were incredible, despite the fact she admitted to getting "pretty f**ked up" before the show.

Cyrus proceeded to pump out songs from her latest LP "Bangerz" before the show suddenly turned full 360 and she ranted about how Bob Dylan and The Flaming Lips inspire her and belted out a handful of covers, including The Beatles and Johnny Cash. This wasn't your average bubblegum pop, lip-synching blonde bitch, this girl proves that she can sing.
And then, just as quickly, the backup dancers return, and we're back to the twerking.

She encouraged fans to make-out and "get their titties out" for her with incentives of appearing on the huge screen that towered behind her. Frequently interacting and talking with the crowd, Miley picked up and tried on just about anything they threw at her, proclaiming that a plastic penis finger puppet was the best thing she'd ever received.

Miley promised a party, and she certainly didn't disappoint – I'm off to buy the album.
 Article | Zakk d'Larté