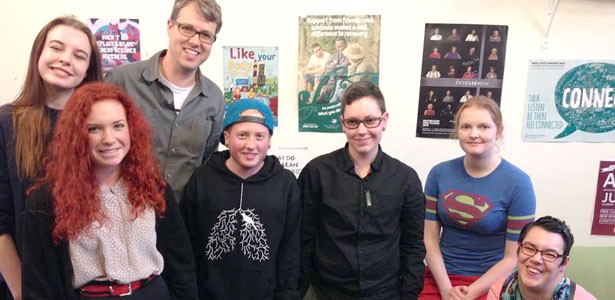 In 1989, a group of young people in Auckland got together to form a support group for LGBTIQ youth.
They called it Auckland Lesbian And Gay Youth (ALGY). After 25 years, several location changes, a name change, a brand reboot and a lot of hard work and dedication, this group has emerged as RainbowYOUTH – one of the largest youth-run, youth-led charitable organisations in New Zealand.
To celebrate this exciting achievement, RainbowYOUTH (RY) are holding a 25th Reunion.
The reunion will take place on Wednesday the 19th of November, with ASB generously providing the venue – the ASB Cube, 12 Jellicoe Street in Wynyard Quarter.
RY's General Manager, Duncan Matthews, says
"I'm proud to be heading up RY, a youth-run and youth-led organisation, as we celebrate our 25th anniversary.
Over the last 25 years, hundreds of people and countless volunteer hours have gone into building RainbowYOUTH, and supporting queer and trans* young people in Auckland and around the country.  At this milestone, we are encouraging Alumni to reconnect with RY, and come together with community to celebrate the successes from the last 25 years, and look forward to the next 25."
The theme of the evening is '25 Years, 25 More'. It will include taking a look back at RY's past, as well as towards it's future – and how, with the help of donations and community support, RY can continue for another 25 years.
Guests will be treated to entertainment and performances from gals and young Auckland rapper RANDA, a photobooth, a historical timeline as well as drinks and canapés.
RainbowYOUTH is calling for past and present members to get in touch if they would like to attend the event, or if they have any stories and memorabilia that they would like to share. They can get in touch by emailing info@ry.org.nz or by joining the Alumni Facebook group:
https://www.facebook.com/groups/rainbowyouthalumni
  Article | gayexpress. Photo | RY 2014 Board Left to Right) Beth Maynard, Natasha Gaffin, Mathijs Lucassen (Executive Advisor), Taine Polkinghorne, Stace Robertson, Samantha Hewlett and Anna Nelson (Executive Advisor).