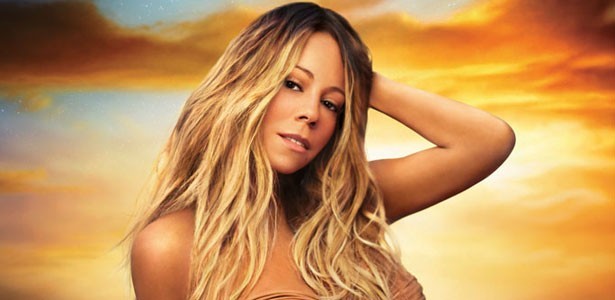 It's a chilly, dark evening and my yellow cab is speeding through the dazzling, neon intensity that is New York's Times Square.
I'm en route to a meeting with Mariah Carey, The Biggest Selling Female Artist Of All Time (220 million record sales worldwide and counting) to talk about the release of her 14th (and much anticipated) album: 'Me. I Am Mariah … The Elusive Chanteuse'. Suddenly the cab pulls up outside a hotel in downtown Manhattan's smart Soho district, and it's definitely the type of stylish, exclusive establishment that doesn't need a name plate over the door.
In the hotel suite where I meet Carey, with its tasteful white roses and comfy, squishy sofas, the singer looks breathtaking beautiful.
With flawless skin, long, honey-coloured tousled hair falling over her shoulders, and wonderful Marilyn Monroe-type curves (encased in a Dolce & Gabana cocktail dress) that go in and out in all the right places, the star is the epitome of glamour.
"Daahhling! Come in and make yourself comfortable,"
says Mariah when I enter the room. She stands up to say 'hello', and I notice that she's supermodel tall, with endless sun-kissed limbs that end in a pair of sky-scraper heels.
(The star was once awarded the title 'Legs of a Goddess', prompting the singer to insure her pins for an undisclosed sum.) "Would you like a splash of prosecco?" she asks, waving the bottle over a glass. "Let's celebrate the album."
Mariah Carey is a singular artiste, someone who's always chosen do things in her own unique way.
Take her latest album, for example. Before the singer had even announced its title or release date (on a special Youtube posting to her fans on 1st May) she already, very astutely, had a number of front cover interviews in place all around the world.
These included Billboard in the US and The Observer and Wonderland magazines in the UK, with the latter, in fact, remaining on newsstands for the entire summer. This, in turn, created a frenzy of media speculation online.
So if anyone understands the power of delayed gratification when it comes to record sales, it's the smart and savvy Ms Carey. "This is my life since we last left off," she reveals. "Just picture a dot dot dot, and here's the album."
Three singles have already been released, 'You're Mine (Eternal)' which has just topped the charts, reaching number 1 in the Billboard dance club charts, and before that '#Beautiful' feat. Miguel and 'The Art of Letting Go'. An art that Carey has mastered, perhaps?
"It's definitely a work in progress,"
she laughs. "But that track is important to me, because it helped me let go of fear – fear that I will never reach my full potential.
This album is about re-claiming myself, and showing that since I became a mother, I've become a stronger person."
So becoming a mother has been something of a game-changer then? "Absolutely, it changed my life in so many ways," says Mariah who spent much of last year setting up a studio in her apartment so that she could spend more time with three year old twins, Moroccan and Monroe.
"I didn't care how small it was, just so I had the babies near me. It's weird that I still call them babies, because they're growing up fast."
In fact they recently celebrated their third birthday, and the photos posted on Mariah's Twitter account reveal a celebration that featured ice-cream, special cake and plenty of balloons and presents.
"I never expected to have these two amazing little people come along and change my life," she smiles. "So I wanted to include them, and try and explain how I feel about them on my new album."
And she's featured them on one of her songs as well?
"Yes, they're on one of the tracks," she nods. "They chip in with a line or two on 'Supernatural'. Actually they love to sing and dance, especially Miss Monroe, who opens the song. I couldn't believe what I heard when she sang into my phone that first time.
It was something along the lines of 'Goo goo goo.' For a 3 year old she has a steady vibrato. And that's interesting, because I started singing at home with my mom when I was four and I've talked about her influence on me for my whole life.
" Mariah is referring to her mother, opera singer, Patricia Hickey. "It must be an 'in the family' sort of a thing," she says.
Carey was raised on Long Island, New York. "We moved around a lot for my Mom's work, and I ended up feeling like an outsider a lot of the time.
But music saved my life, it really did, because I knew I had some sort of talent, and that made me feel as if I was worthy and drove me on to succeed."
Succeed she did – and then some. When her self-titled debut album was released in 1990 it went multiplatinum, spawning four consecutive number one singles on the U.S. Billboard Hot 100 chart, and a star was born.
Carey is now the best-selling female artist of all time with record sales in excess of 220 million copies. She has had eighteen Billboard Number One singles (seventeen self-penned) more than any solo artist in history, including Elvis Presley.
It's quite a dizzying list of accomplishments, and some journey for the little girl who grew up listening to the radio under her bed covers at night, and who would then sit at her school desk the next day dreaming of musical success.
Did she share her dreams with anyone else? "It was pretty much my secret, and I hugged it to myself for a long, long time. But I do remember one day at school, when I was about 12, the teacher asked the class what we all wanted to be when we were older.
Everyone kind of said basic jobs, except me. I said: 'An entertainer!' and the teacher was like: 'Oh come on – that's not going to happen!' But it did, and I feel so fortunate because my mom helped to instil a belief in me that success was possible," explains the singer.
"She said she named me Mariah Carey as a stage name, and when I talked about my hopes for a singing career she'd always remark, 'Don't say if you make it, say when'. And that's how I've always had faith."
But even the resolutely optimistic singer could never have imagined the changes she's seen in society over the last few years, and not least the big change in the White House. "A bi-racial President!" says the star of Barack Obama. (Carey is bi-racial herself.)
"I can't forget the wonderful moment I heard that he'd won the election, it was like a dream. It was like the American rule-book had suddenly been re-written overnight, and it was just incredible."
Has the singer ever met the Obamas? "Oh yes, and they're both exceptional and phenomenal people, in my opinion," she says enthusiastically.
"In fact, other than my family, Barack and Michelle were the first people I told that I was pregnant with twins. I was singing at a special Christmas Gala in 2010 that they attended, and they were both thrilled. They'll always have a special place in my heart."
As well as wife, mother and successful entertainer, Carey has also proved herself to be a talented business woman over the years, bringing out her own brands of perfume and champagne and also launching a lifestyle collection on the Home Shopping Network, featuring shoes, jewellery and fragrance.
"When I was younger I used to do stuff, and then look back and wish I'd patented an idea," says the singer. Like what for instance?
"Well," says Mariah. "Take the time I ripped the top off my jeans. I wasn't trying to make a statement or anything. They just happened to fit me much better that way.
I don't know if I should take any credit for it, but I did see some major designers do something similar with their jeans that year. So things like that have happened to me, and I've thought: 'Oh, okay. I suppose maybe that was somewhat influential on that moment.'"
The one thing there can be no doubt about, however, is Carey's influence on music (she's credited with introducing R&B and hip hop into mainstream culture) and also her influence on Christmas.
Where would any of us be, for instance, without Mariah's 1994 festive hit 'All I Want For Christmas Is You'? It might be 20 years since its first release, but the song has a habit of re-entering the charts each December, and remains as one of the world's favourite ring tone choices.
So, what is it exactly about that particular holiday that puts a sparkle in her eyes? "It's my favourite season!" she beams happily, flashing me a radiant smile.
"Look, I'm well aware that Christmas is months and months away, but believe me, I've already started planning it. Seriously, you're talking to Little Miss Christmas here."
Mariah Carey has been at the top of her game for almost 25 years. Besides her awesome talent, of course, how does she explain her phenomenal success in such an unpredictable industry?
"Well, you definitely have to be resilient in this business because it can be tough. But I guess my key to longevity is simply that I've always loved making music.
I stay in touch by listening to a lot of different music, then if I like something, I'll contact that artist and see if our sounds can work together.
Usually they can, because one of my strong points, I think, is that I'm able to write and sing on top of something that's a little 'dissident'. Instead of clashing, somehow I can make two sounds really come together and work. One of my goals is to collaborate with artists who can bring something fresh and different to my music."
And a quick scan at the back cover of her latest album certainly bears this out, with collaborations listed with the likes of Mary J. Blige, R. Kelly and Miguel, to name but a few.
"I've worked so hard on this project," says Carey, who recently caused an excited frenzy (and stopped the traffic) in Times Square when she stepped out to meet her fans, dressed in a figure-hugging black gown. "It really has been an incredible experience for me, and I'm giving this to my fans almost as a gift."
Mariah pauses for a moment, "Music lasts forever, doesn't it? And making music, simply, is what I really love to do."
With 220 million record sales worldwide – and counting – it seems that her fans like her to do that too.
 Article | Alex Delafield
Mariah Carey's The Elusive Chanteuse Show touches down at Auckland's Vector Arean on Thursday 13 November. Tickets through Ticketek.