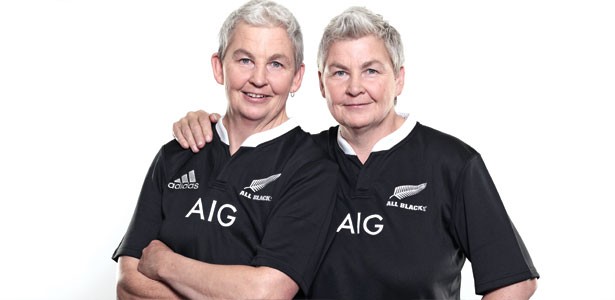 I sit in the café in Kingsland and I think about Eden Park, the icon of the All Blacks about a hundred metres away.  I order myself a lamington, because what's more fitting than an icon of New Zealand food? 
"How are ya buddy?" Lynda says as she comes through the doorway, she puts out a hand. I'm instantly taken back to my childhood – searching anywhere I could for role models, for parts of me on TV. I remember finding the Topp Twins and feeling a deep connection. Soon Jools comes through with her small country dog in tow; "you all good, buddy?"
Yes. Yes I am.
What's amazing about the Topps is their ability to meld so many diverse things together and make it seem like it's the most natural combination in the world. Their latest show, The 'Grand Ole Topp'ry' is no different; "we're throwing all these people together, they're about as different from each other as we are from them too" says Jools, with Lynda jumping in "Cam [Luxton] is a young man – all the girls are going to go nutty when he comes on stage, we've got Phil Doublet who is probably the best guitarist in New Zealand, Tami Neilson who's a real working mum… and then we've got the Johnnys who are this real out-there (all girl) almost punk rock Johnny Cash cover band… we can throw all that together and get away with it."
New Zealanders "expect [our shows] to be really diversified, and something they haven't seen before" says Lynda. It sounds to me like a winning formula, and with three weeks to go already half the tickets sold in theatres across New Zealand, it seems it's working well. 
Lynda beams at the mention of her son performing  – Cam Luxton, winner of Gold Guitar and Horizon award in Hamilton. "It's historic this tour," she says "because I've got my family with me – Cam Luxton, who's 19, he's on the road with us, and my wife, which is pretty amazing that we can get married now, she's doing the merchandising" and "Tami Neilson just had a baby" says Jools, "it's a big family tour."
They excitedly talk about a new set of characters that they'll be debuting for the show, and it's clear just how much they love all the characters they do. "It only ever works if you love the character – you need to love the character before you be the character" says Jools, "You can send a character up, or put them down". They then explain that all of their characters are multi-dimensional, and have some exceptional skills – like the Gingham Sisters, who the Topps had to make sure were amazing yodelers, so as to make sure they were not just being laughed at.
It strikes me that it's the love of people and life that makes them so magnetic "amuse but never abuse" is their motto since they started. It's entertainment that is constantly evolving, yet always staying true to their principles; "You gotta be positive, you can't be mean" says Lynda, "how we go about it is first of all to have fun, and secondly be nice to people about how you do it."
It's that positivity, and ethic of fun, they say that helped pass the Homosexual Law Reform Bill. They were touring during the time, "There were some pretty nasty things that happened," says Jools,  "people were pretty anti, but in the end the Homosexual law reform bill was passed because the gay and lesbians were having so much fun and the horrible people who were so down on it were so negative and scary. New Zealanders said look ' those are pretty scary people, let's go with the gay people, they're having a lovely time'."
Celebration is important for the twins. "It's about our emotional wellbeing," says Lynda "if you're gay, to be able to celebrate – and in all honesty we've been able to celebrate our music and our gayness, and everything in a way that has allowed us to blossom." They've been out since they started performing, before even newspapers were willing to print the word 'lesbian', "What happened with Jools and me, we came out, and tried to get famous" says Lynda. 
The pair have always been doing things their own way, and continue to. Lynda appeared on the cover of Women's Day last year as she married her wife Donna. "It was the first time in the history of Women's Day that they let lesbians on the cover" Says Lynda, "Let alone getting married!"
So who's an icon for these icons? Their answer is unexpected, but perfect: "there are a lot of older lesbian woman in this country… we met these women, but we didn't know what they were called… I think that these older women that we met back then, they paved the way for us."
Article | Sam Orchard.  Photos | Danilo Santana David for express. | Makeup: Kaz Elizabeth from FaceMe
Official All Blacks jersey and shorts supplied by New Zealand Rugby.