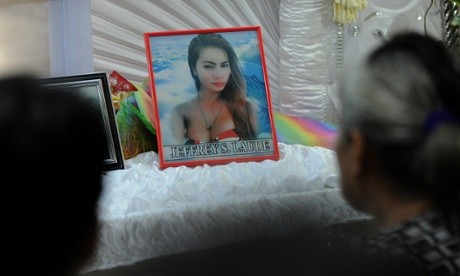 Murder charges have been filed against a US Marine stationed in the Philippines in connection to the death of a transgender Filipino he met in a bar outside the former US naval base of Subic Bay.
Copies of an autopsy report saying the death was due to asphyxia by drowning were taken by police and family members of the victim to the prosecutors office, where murder charges ere then filed against the US marine.
"Based on two witnesses' testimonies, we believe we have a strong case against the US Marine," said Pedrito delos Reyes, police chief of Olongapo City, where the body of Jeffrey Laude, 26 also known as Jennifer was found in a hotel room on Saturday.
The Philippine government also wants to take custody of Private First Class Joseph Scott Pemberton while he stands trial, says a senior Philippine official.That has however been rebuffed by the US, with authorities saying the Marine was being held aboard the USS Peleliu, an amphibious assault ship, in Subic Bay. Three other individuals were also held as potential witnesses.
Senior Philippines officials have warned that the case could damage military ties between the Philippines and the United States who have a long-standing military arrangement.
Article | Levi Joule