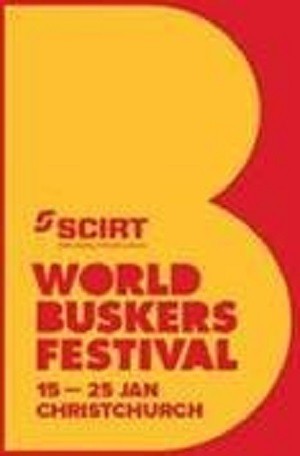 Following sold out performances on Broadway and a highly acclaimed American and Australian tour, The Vaudevillians will descend on Christchurch, New Zealand this summer as part of the 2015 SCIRT World Buskers Festival.
Top drag performer, Ms Jinkx Monsoon (Season 5 winner of the American reality television show "Rupaul's Drag Race,"), and Mr Major Scales, piano player extraordinaire, have created a show that may leave you with a hoarse voice from continual laughter.
Monsoon as Kitty Witless and Scales as Doctor von Dandy play former stars of the American days of old. During the stars' original international shows in the 1920s, they travelled to Antarctica to perform. Tragedy struck and the two were essentially frozen in time and stuck in the ice age. Miraculously, thanks to modern day 'global warming,' they have been de-iced and are returning to the stage a bit past their prime.
Claiming they'd forgotten to copyright their material, while stuck in the frozen tundra contemporary artists like Lady Gaga, Kool & the Gang, Gloria Gaynor and even Snoop Dogg stole their music!
Channelling endless hits from a century of music, The Vaudevillians have taken to the stage to perform their original songs (in a most original fashion) and perfected their own art form, a combination of olde timee music, witty banter, convoluted back-stories, colourful language, a little naughtiness and some over the top fun.
The act has earned stellar reviews from The New York Times and now Christchurch gets to play host thanks to SCIRT World Buskers Festival 2015.
Festival Director, Glen Pickering, says, "The Vaudevillians are definitely one of my top picks for the festival. I'm so delighted that we've booked them as they're in hot demand. It's a great indication of the reputation the festival has built up over the last 22 years that top international acts of this calibre are so keen to come to New Zealand and perform exclusively for us in Christchurch."
The annual festival is one of the biggest street performance festivals in the world and will run from 15-25 January 2015. SCIRT World Buskers Festival 2015 will feature 41 acts including highly skilled acrobats, burlesque dancers, musicians, circus and vaudeville skits and comedians.
The Vaudevillians will be performing at The Press Club at Christ College from 15-24 January 2015.
To see the full line-up for the 2015 festival and to secure early-release seats to make sure you don't miss out, please visit www.worldbuskersfestival.com.
Article | Levi Joule