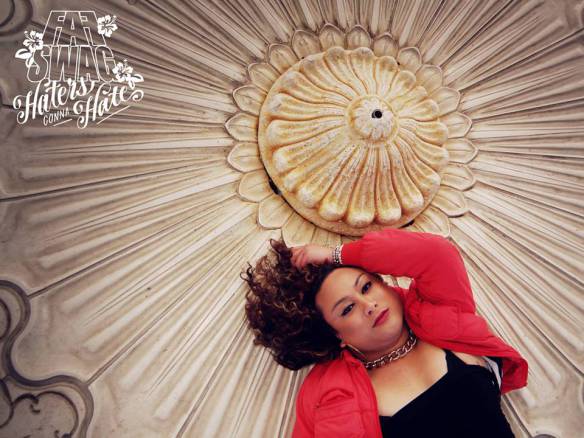 MIT Creative Arts students Pati Tyrell and Moe Laga present two events which are breaking down gay and transgender stereotypes, with both events curated and organised by well‐known Pacific visual artist Tanu Gago as part of the 2014 Urbanesa‐ South Side Arts Festival.
Tanu Gago, the curator of Poly‐Typical says the exhibition unpacks the visual narratives used to generalise the identities of urban Pacific youth.
"Poly‐typical reframes the Pacific experience for a new generation and depicts a new perception of what being young and Polynesian is today," says Tanu.
Poly‐Typical is presented at the Fresh Gallery in Otara from 13 November – 23 January. Pati and Moe join a group of artists that have come together to respond to social and cultural expectations of pacific youth through performance, photography and moving image.
Moe Laga, a performing arts student at MIT, is taking her performance characters into the photographic medium. Her body‐of‐work depicts Moe as a fa'afafine acting out typical male tasks like mowing the lawn. Moe says that she hopes her works will breakdown the current expectations how a typical fa'afafine should behave.
"In Samoa, a fa'afafine is like a super woman. She has a big role in the community, looking after the children and doing all the cooking. I wanted to breakdown this stereotype or expectation as I didn't grow up in Samoa. I'm not like that. I want to portray that we are all different."
"For the images I chose typical male chores like mowing the lawn and taking out the rubbish ‐ but I dressed up as my fierce fa'afafine self," says Moe.
Joining Moe is Pati Tyrell, exhibiting with his work Masculine me Tender, a self‐portrait that depicts both his masculine and feminine side and has been selected as the hero image of the exhibition.
Alongside working on the exhibition, Pati and Moe are busy behind‐the‐scenes working on Fafswag – an event that brings the New York Underground Ball Culture to South Auckland. Fafswag is a competition that showcases a series of customized runway and performance categories from the Miley Twerk to the Vogue catwalk freeform dance.
They are involved in two events that are breaking down gay and transgender stereotypes.
Poly‐typical and Fafswag are two events curated and organised by well‐known Pacific visual artist Tanu Gago as part of the 2014 Urbanesa‐ South Side Arts Festival.
Both Pati and Moe have worked on the Ball from its inception in 2012. Moe came up with the original concept inspired from the movie Paris is Burning and took it to Pati and the now Fafswag director Tanu Gago.
"I saw Paris is Burning and thought this would be a fantastic opportunity for our community to perform in a safe and fun environment. I performed in the show last year, but this year Pati and I chose to take on behind‐the‐scenes roles to support the Ball."
Pati is working behind‐the‐scenes on digital media and is on the Fafswag committee alongside Moe. Moe is also on the judging panel for this year's competition Cindy of Samoa, Kris Fox, Phylesha Brown‐Action and Sammy Salsa.
MIT Creative Arts Dean, Grant Thompson says his department has sponsored the event as a way to showcase students' talent and support their future career pathway.
"We have a very open and supportive Creative Arts Department at MIT with a focus on developing careers for our students. It is common for artists to work both in front and behind‐the‐scenes on their work. Fafswag is a great opportunity for some of our students to gain skills that they can use when they graduate. Diverse skills can be vital to having a successful career in the arts as many successful artists are self‐employed entrepreneurs," says Grant
Both events open this week as part of Urbanesia‐ South Side Arts Festival. More information on the two events can be found below.
Event information
Fafswag
Entry fee: $10 on the door.
Date: Saturday 15th November
Time: 07:00pm ‐ Late
Venue: Te Puke O Tara Community Centre ‐ 20 Ne
Poly Typical
Entry Fee: Free
Date: 13 November‐23 January Venue: Fresh Gallery Ōtara
Article | Levi Joule