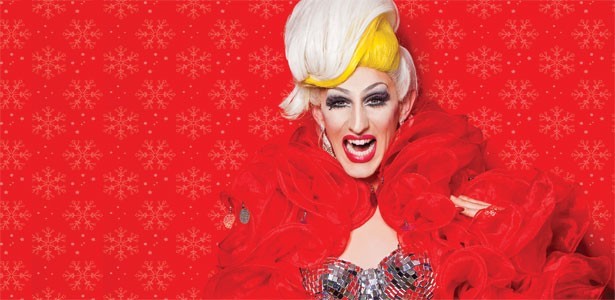 As a fundraiser for the Cartier Bereavement Charitable Trust, local drag diva Tess Tickle and acclaimed photographer Jarrad Mapp have made a 2015 calendar starring some of NZ's most talented queens with colourful results.
"I loved the idea of shooting drag queens in their environment to highlight their personalities," Tess aka Anthony tells express, "So Dallas the lush in a bar, Kita the desert queen in a cafe, Buckwheat the gym junkie!"
"Jarrod was keen to do more of a beauty style so we combined the two ideas… Without his editing eye and precision with a camera it wouldn't have been as professional looking," he assures.
Back in May, Jarrad shot Dallas Vixen and Italian go-go boy Luca at the former Legend bar and club, as a 'test run' to show others examples of the look they were going for, to gauge if they interested in getting involved. Enthusiasm was rife!
"There were no diva moments," Jarrad promises us of the five months of shoots he did for the calendar. "Drag queens are used to the cameras so they weren't shy to work it!"
He says that shooting notoriously toned drag queen Buckwheat at the gym, was a personal favourite shot, but says the most memorable shoot involved some very messy cheesecake!
"[We shot] Kita Mean at Marcello's Caffe (28 College Hill, Freeman's Bay). It was very early on a Sunday morning, right as Marcello's was opening. Kita had worked that Saturday night, so was running on about 30 minutes sleep. You would never have known it! She was a trooper and did a fantastic job. Right at the end we did a few funny shots where she is messily eating the cheesecake with her fingers – she might not let us show those!" He laughs.
The Cartier Bereavement Charitable Trust started in 2002 to raise funds to assist with the funeral costs of people passing away from HIV-related illnesses. Founded by Karen Ritchie, in tribute to her late friend drag queen Courtney Cartier.
"Courtney Cartier was a very humble person with a beautiful soul," Karen tells us, saying, "she would be overwhelmed and so very proud that the Trust is helping many others with the last part of their journey."
Anthony hopes the calendar will raise awareness of the Trust and it's work, not only in our community, but beyond. "I know that many of these calendars are going to people at Buckwheat's gym who love drag but, would not know what we do as charity work and are now aware."
She hopes all community members will get behind the charity, even those who are not fans of drag. "I know drag is not for everyone and some say they don't like to be represented by a man in a frock and I understand [that], but as a whole we are all one community with a common goal and if one of us is sick and dying from a HIV-related illness and cannot afford funeral expenses, Cartier will be there to cover it no matter if you are a drag queen, bear, twink or whatever other persona you identify with. We are all here to support each other. I think sometimes we forget that."
The calendar can be purchased for $20 from the NZ Aids Foundation, Encore cabaret restaurant, Marcello's Caffé, Caluzzi cabaret restaurant, Urge Bar and Kryolan in Newmarket or by emailing: cartierdragcalendar@gmail.com.
Article | Oliver Hall. Photos | Jarrad Mapp.