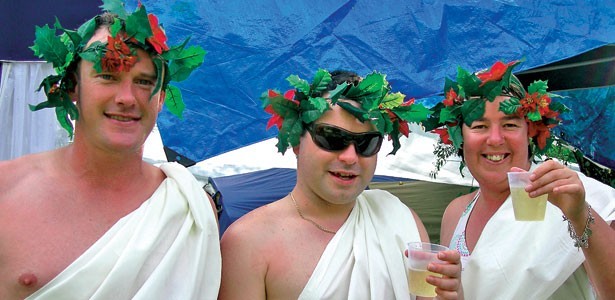 express brings you an insiders' guide to the sites that will be putting the camp into camping this New Year.
Vinegar Hill
Vinegar Hill is more than just a camping site with some history – it's an anticipated social event! You will find it located just shy of Hunterville, a little over five hours drive from Auckland.
The nights at Vinegar Hill boasts more fairy lights (solar of course) than Franklin Road. In the run up to NYE it hosts: outdoor movie nights, Guys v Girls softball games and Toga parties. The New Years Party boasts a bonfire bigger than you could ever have dreamed of building in your most frenzied fire fantasy!
In the daytime the hours are spent drifting down the neighbouring river on anything that floats and enjoying the sun. Each year a camp, 'Queen' is appointed to organize additional activities.
Bring warm bedding, the nights can be cool & sometimes that new 'friend' you have just made isn't enough to keep you warm.
The shops in Hunterville stock enough food to get you through and if roughing it is not your style, the Hunterville Motel offers hot showers and great cooked breakfasts!
 Article & Photos | Evan Donnelly