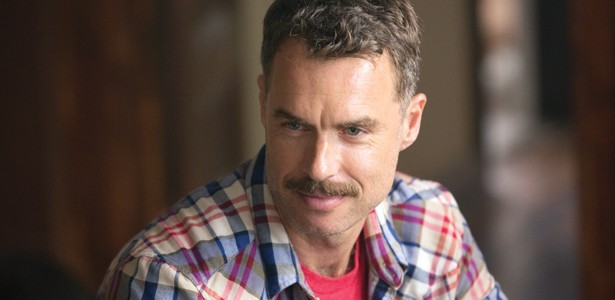 From Neighbours to Sex and the City to acclaimed 'gay' show Looking, out actor Murray Bartlett has done it all. With Looking returning to our screens this month, Oliver Hall pinned Bartlett down to talk about representing gays, brunch with Sarah Jessica Parker and hugging Hugh Jackman.
Murray Bartlett still displays that persona of wide-eyed innocence that only a boy from Perth can. Combined with those big blue eyes and handsome face – it's no wonder he has scored roles on almost every major soap opera Australia and America have ever produced. Our interview however begins in a slightly unusual fashion:
Murray: How are you?
express: I'm good how are you?
Murray: I'm good. You sound like you're talking to me from a bathroom?
express: Well my office is about the size of a bathroom. But don't worry I'm not taking a shit while interviewing you!
Murray: Do you promise?
express: It wouldn't be the first time, but I have too much respect for you to do it… Though imagine if you heard a flush!
Murray: You need to print this in your parenthesis and then finish with a flush!
Schoolboy humour concluded, we ask about his career highlights and he quickly raises scoring the role of Oliver Spencer on Sex and the City as, "a thrill." Bartlett had only been on holiday in New York, when he picked up his first major US role.
"I hadn't gone there thinking I would stay and work. I was just hanging out in city doing some acting classes and then a few days later I was sitting opposite Sarah Jessica Parker having brunch."
The story of how he got the role is so typically New York. "There was a group called Naked Angels, where playwrights would come with new work and pick actors to read it. It was this real hot house… I became friendly with this guy, who was friends with this woman, who was best friends with one of the producers of Sex & The City!"
The show wanted a non-American to play the part of a gay man who Carrie begins a faux-boyfriend relationship with. Bartlett met Sarah Jessica Parker for his script reading on the set of a shampoo commercial she was recording – and she decided he was worth it!
However SJP is not the biggest star Murray has rubbed (more than) shoulders with. He describes his Boy From Oz co-star Hugh Jackman as, "one of those actors who actually connects with you and makes real eye contact and is listening with you, not just in their own world."
The two played lovers in the musical, which toured arenas around Australia. "Oh my god. He is this beacon of good energy. He is such a generous wonderful person through and through!" Bartlett gushes, but admits despite playing partners, there was no kissing between the two. "Just lots of hugging and singing love songs to each other."
But is Wolverine a good hugger? "Absolutely! He's such a wonderful professional actor, you have to just take his lead."
Oh Murray, we'd love too!
Despite his successes, turning forty made Bartlett question his career and he travelled to Egypt to find himself. "I was looking back at my life and asking how I wanted to move forward, and whether I wanted to continue as an actor. Asking a lot of big questions about what makes me happy and what I wanted." He tells us.
"It was a really tumultuous time for Egypt, looking at that whole revolution process and seeing what people go through was an amazing life experience and made me realise that I was worrying about crap."
It was in Egypt that he was contacted by director Andrew Haigh to audition for Looking, a 'dramedy' revolving around three gay men in San Fransisco that was being produced for legendary US TV channel HBO (home to The Sopranos, Game of Thrones and Sex and the City).
Murray had met Andrew in 2012 at a queer film festival where there respective features August and Weekend were screening. "I was ready to really throw myself into something. Egypt had gotten my priorities straight and given me this renewed passion." Murray had been a huge fan of Haigh's Weekend. "I just thought if [Looking] is going to have that sort of tone and subtlety and reality to it – that's something I want to be part of." He says.
Debuting in 2013 Looking was met with critical acclaim for what has been dubbed it's 'post-gay' approach. In it's first season the show ignored typical gay storylines like coming out and homophobia, instead focusing on broader issues about getting older and expectations for the future. Murray tells us, "for the most part people have been very positive about the show. It presents the characters in a very real way that steers away from gay stereotypes."
However he points out that the show is not trying to represent the community as a whole. "It can't represent everybody. It would be a mistake to do that."
He says that Season 2, which debuts on Sky's SoHo this month, "goes a lot deeper and becomes more complicated for the characters." He says he is excited to see relationships between his character Dom and business partner Lynn (played by Quantum Leap's Scott Bakula) and flatmate Dorris explored.
Importantly – he promises more nudity from the show! "Yeah, you get to see a fair bit of skin," he confirms.
Looking screens on SoHo 9.30pm Thursdays, repeated 6pm Tuesdays.
Article | Oliver Hall.