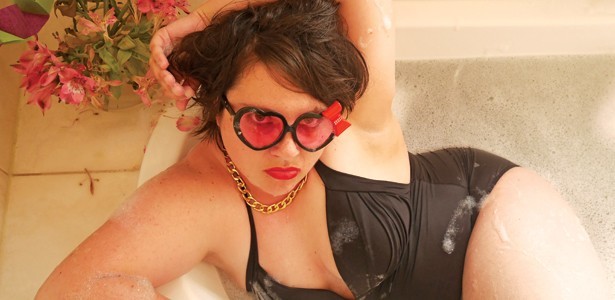 Freya Desmarais is comedian from Tauranga who will be performing her show Live Orgy as part of the Auckland Pride Festival. Freya suffers from bipolar, but chooses to express her feelings and frustrations through confronting queer comedy.
What makes you proud?
I'm proud to be me, I quite like me. I crack myself up. That Freya girl, she's such a card. The Ace of Hearts to be specific, ladies.
To me, being proud means owning myself, my mind and my body, my dreams and my past, present and future. I'd never own up to a fart in an elevator though, I'd draw the line there. Just stare straight ahead.
I have bipolar (type two) which can be quite debilitating at times. I experience very high highs and very low lows. Quite simply it's a pain in my backside, but I refuse to let it define who I am and I battle every day to overcome it so that I can reach my potential. That makes me pretty proud.
I think everyone has their own daily battles and I truly believe that it's those little things that we do to be authentic and true to ourselves that we should be so proud of.
Can you tell I've been through therapy? Is it that obvious? As obvious as black polka dot undies under white pants.
As a performer, what are you trying to express?
In the wider world I try to express kindness, as trite as that may seem. I'm a cynic by nature but I do have a romantic heart. I try to make sure I always have time to pat a dog on the street, smile at strangers, be helpful and kind where I can. I'm pretty much Dora the Explorer.
In my show Live Orgy I'm mostly trying to fulfil my dream of bursting out of a five foot high vulva onstage and rap about getting sperm in the eye without getting arrested. It's art.
Do you feel this is giving back to the community?
I am giving some serious hope, change and freedom through puns about rubbers and rub-hers.
In light of the despicable Roast Busters case I wanted to talk about rape culture and how consent and mutual respect and kindness in sex is actually really basic, yet we are taught to slut shame and reject ownership of our bodies and minds. It's gross as, so I decided to write a comedy about it.
What are your future aspirations?
I want Rose Matefeo to kiss me on the cheek again. On my face, not my bum; to be friends with Stephen Fry.
Live Orgy is on at The Basement Theatre from 9-11 February.