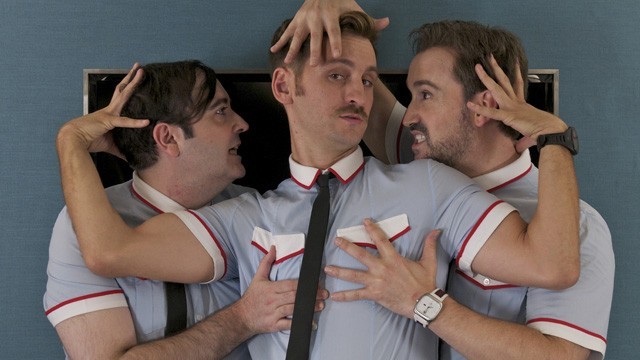 Pedro Almodovar is something of a name in both world and queer cinema. With that name we've come to expect several things, candy-coloured art direction for starters, convoluted characters skirting existential crises, beautiful and empowered female characters (often embittered by slights from sinister men in suits), and sex. Lots of sex. I'm So Excited is spilling over with the latter, a celebratory pastiche of anyone's mile-high fantasies be they straight gay or undisclosed. That is, if anyone's fantasies preclude an imperiled backdrop, like a plane looking to make an emergency landing.
That's Almodovar's premise here, set mostly in the business class of the fictitious Peninsula Air Company where it's top-paying patrons are coming to grips with their pending doom. The landing gear has broken (as a camp air steward lets them know, after a previous pact of silence leaves him incapable of telling even necessary lies), and no one is responding to accommodate flight 2549 with a sufficiently cleared emergency runway.
Prospects are bleak. Or they would be, if it wasn't for the high-camp trio of male air-stewards (one of whom is sleeping with the married pilot), the sexually-ambiguous-stud co-pilot, the chicly attired dominatrix, the shady corporate fugitive, the hit-man, the remorseful womanising actor, and the virginal psychic.
Did I mention the entire economy class has been drugged with muscle relaxants? And these aren't even spoilers!
It's a return to the frenetic, absurdist comedy not seen since Almodovar's earlier work, maybe best exemplified in Dark Habits or Women on the Verge of a Nervous Breakdown (personal favourites). Some might bemoan this as too light a work next to its immediate predecessors, but if the narrative panache of The Skin I Live In is anything to go by, I'd vouch I'm So Excited will hold for analysis under all the froth.
Who said exploring sexual liminality had to be serious? We can't all be Bret Easton Ellis. Mucho fun, highly recommended!
I'm so excited will screen on Sky's Rialto channel at 5pm 18, 8.55am 19 and 4.05pm pm on 28 March.
For more info visit www.rialtochannel.co.nz
 Article |