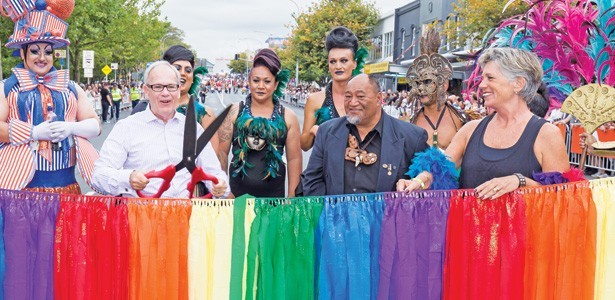 2015's Pride Festival was the best yet writes Levi Joule.
Auckland Pride Festival, you were fabulous. Over the course of three weeks, the very best of our community was on display.
Heading into the festival, there were doubts about a number of key events and the preparations made for them, however the worries proved unnecessary. All events were well organised and highly energetic.   
2015's Pride Festival was a beautiful display of what makes our community so vibrant and diverse. The theatre programme, which included Samoan story Girl on a Corner, local youth showcase Legacy Project and British hit Away From Home; was particularly strong. While record numbers participated in: express' short story contest, the wide spectrum of visual arts exhibitions and the numerous events presented by Rainbow Youth.
The highlight of this year's festival was the parade. The quality of entrants was high, with organisers taking a number of extra days to decide on a winner for best float, which was awarded to Rotorua Chamber of Pride's entry.
With the later start time of 7:30pm allowing the Gods and Monsters theme to come alive as the sun set. 2015's parade attracted the highest number of entrants yet – a testament to the hard work and dedication from the hundreds of volunteers who put it together. Richard Taki and Baz Bloomfield in particular deserve special mention for their outstanding leadership in ensuring the parade was a success.
Pride this year was the first to both embrace and be embraced by the wider Auckland community. This year had a distinctively Polynesian flavor with a greater presence of pacific influence in the gala to events being organised for South Auckland for the first time.
2016's Pride looks set to be even bigger and better, with the Asia-Pacific Outgames bringing an international participation and a sports element to the proceedings. If 2015's Pride Festival is anything to go by, Auckland is more than ready to play host to our overseas guests.
Article | Levi Joule. Photo | Dan Liu.