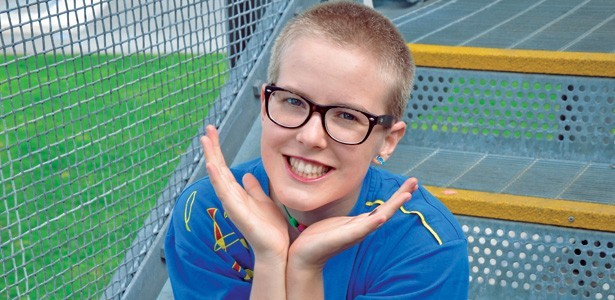 Kiwi music's rising star Randa talks to Sam Orchard about his alternative inspiration, rising above hate and being openly trans in the media's eye.
I feel categorically too un-cool to interview Randa. He's a rising star in the NZ music scene, opened the Big Day Out last January, uses words like 'buzzy' and 'chill' (without sounding like a knob), and spent last year touring his tunes across the country.
Randa, or Mainard Larkin (as he's known when he's not rapping), is a baby-faced blonde 21-year-old. He raps about being described as a 'hipster Justin Beiber'. He has only been rapping for three years, but is already making waves across the industry. Last November he took out the Vodafone New Zealand Music Critic's Choice award, scoring a $10,000 recording grant.
Randa started out spending days at a time locked in his North Shore bedroom sampling beats, writing, and rewriting, and worrying his mum. He began slowly, working out what worked (and what didn't), did covers, wrote original pieces, and put them up online.
He got inspired to write his own stuff after listening to underground rap that was coming out of San Francisco and LA. "I was finding rap music that was weird and alternative", listening to Nas' Illimatic, and a new wave of artists like Das Rascist, Childish Gambino and Chance the Rapper.
He started getting heard, gaining confidence, and meeting people who steered him in the right direction. In 2013 he decided to say yes to everything and performed in a range of places and venues. It helped build his fan base, and his confidence in his work.
By the end of the year he was working with songwriter and producer Josh Fountain. Together the pair wrote five songs; "going into Critic's Choice… with those songs up, I just felt much more confident in my work," Mainard
reflects.
Mainard has a kind of relaxed way of being, which is most apparent in the way he talks about his gender and sexuality. Throughout his rise to fame, and his many interviews across different media, I've seen him referred to in a number of ways, and with a range of pronouns. Such is the way for many trans folk. But Mainard seems to have an enviably cool way of dealing with it. He has tried to be really open about his transition within interviews, which is no mean feat when dealing with mainstream media, and has subsequently taken his audience along for the ride as he explores his gender.
In recent years queer and trans issues have been infiltrating hip hop in more and more ways, and Mainard has, happily, had really positive experiences of this. He talks about being inspired by queer rapper Le1f's performance on David Letterman last year, and how he enjoys seeing lots of GLBT people at his shows.
As for advice he'd give to other queer or trans musicians starting out, he says, "it's the same advice I'd give to anyone really; just be confident… you have this unique experience… don't be afraid to let that influence your work, your experiences are valuable." He finds that the more open he his about his gender the more relatable he is; people are more likely to approach him, and talk about their own experiences, and see him as a real person.
He still gets the odd nasty comment on Facebook or Youtube, but tries not to let it get to him. Fortunately his fan-base is well schooled and if they see him being misgendered will often comment to correct it.
2015 is shaping up to be another big one for Mainard. The Rangers music video from his recently released EP of the same name, will be out soon, followed by the Lifeguard music video in late February. If either of them are half as good as his Frankenstein video (which was nominated for a NZ music award in 2013) we will be in for a treat.
As we wrap up the interview I ask him what super power he'd like to have, and he already has a definite answer: the ability to hover and fly. His wish is already being granted in 2015, as his career is set to soar!
Article | Sam Orchard. Photo | Suki Zhang.