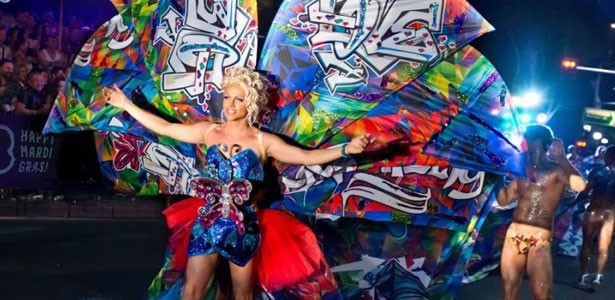 News Editor Levi Joule writes from Sydney ahead of tonight's Mardi Gras parade and party. There is an undeniable buzz of excitement in the streets of Sydney right now.
Now in it's 37th year, Sydney's iconic Mardi Gras parade returns once more to Oxford Street.
The annual Mardi Gras Festival attracts more than 25,000 interstate and overseas attendees to take part in some of the Festival's month-long series of events,  ranging from Fair Day to theatre, from drama to drag shows.
More than 130,000 spectators, family and friends will cheer on 10,000 participants when the annual Mardi Gras Parade weaves its way down Oxford St later this evening.
"The Mardi Gras Parade is one of the greatest public celebrations in the world and showcases Sydney's amazing diversity, style and glamour," said Ms Sandra Chipchase, CEO of Destination NSW, the NSW Government's tourism and major events agency and event supporter.
Tonight's parade will feature well over 100 floats, which will make their way down Oxford street, kicking off with Dykes on Bikes revving up the crowd from 7.00pm EDST and will run through to approximately 9.30pm.
The parade will then be followed by the world famous after party, featuring performances from Nick Jonas and Courtney Act.
Article | Levi Joule. Photo | Courtney Act. Sydney Gay and Lesbian Mardi Gras