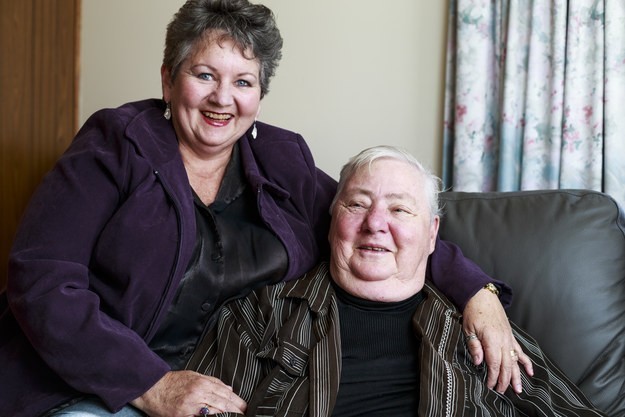 A Tasmanian couple will marry in New Zealand in order to fulfil the dying wish of a woman who has only weeks to live.
Sandra Yates and Lee Bransden have been together for eight years and want nothing more than to marry.
Lee is now terminally ill with end-stage chronic obstructive pulmonary disease and has only weeks to live
The couple's last wish together is to legally marry. They will have to travel to New Zealand to do so however, as same sex marriage is not currently legal in Australia.
After a bankrupt builder ate up their life savings, the two women, who are on pensions, have little of their own money to fund the trip.
A crowdfunding campaign started in late April by Australian Marriage Equality was set up to pay for the trip and has now exceeded its target of $6,500 to pay for Sandra and Lee's flights, accommodation, and ceremony.
Speaking to BuzzFeed News, Yates said the couple were "absolutely exuberant".
"I couldn't even find the words to say how thrilled we were with the response, how utterly in awe we are," she said.
"People have reached to the bottom of their pockets and just given so generously to support us in our venture to be married in New Zealand."
Sandra said they would get married in Rotorua, as indigenous culture is significant to the pair.
"We're both of Aboriginal descent and as Lee worked in New Zealand for 25 years she was really connected to Maori culture and it's very special to both of us," she said.
Article | Levi Joule.